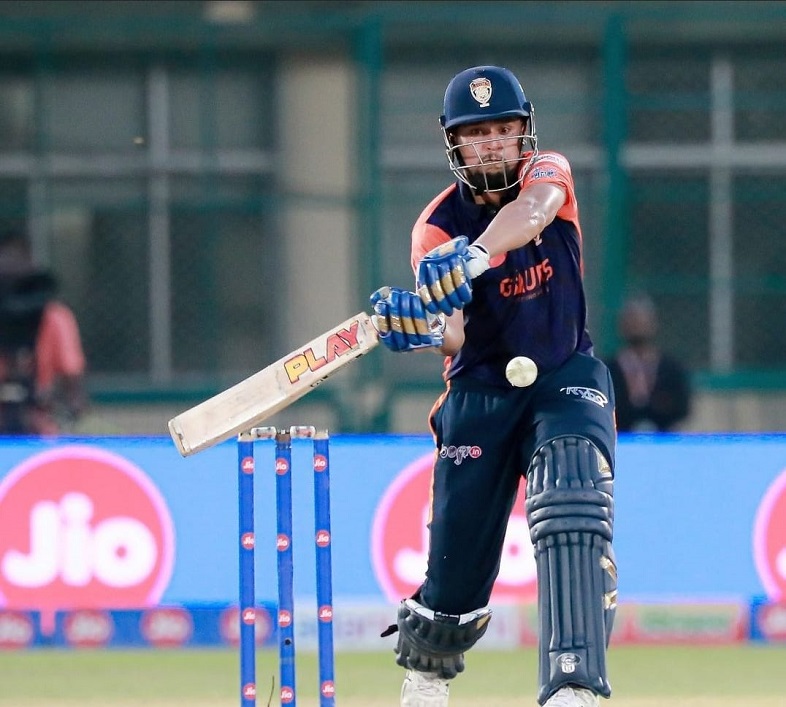 Kanpur, September 4th 2023: In an electrifying encounter at Green Park Stadium, Kanpur, on September 3, the Gaurs Groups' Gorakhpur Lions went head-to-head against the Meerut mavericks and won the match by chasing target of 214 runs with loss of 2 wickets in a riveting Jio UPT20 clash. Team Gorakhpur Lions won the toss and elected to bowl.
Team Meerut Mavericks started fast and without breaking momentum set the target of 214 runs after losing 8 wickets in 20 Overs. Swastik Chikara opened and played wonderful inning and scored 101 runs in 49 balls.
Standing tall amidst the Lions was Yashvordhan Singh, a batsman played an outstanding inning and scored 81runs, not out in 40 balls with an impressive strike rate of 202. On other hand Siddharth Sarvan Yadav has taken charge and patently scored 61 runs, not out in 24 balls with the outstanding strike rate of 254. With the responsibility of propelling the team to brisk starts, Singh role was pivotal in the Lions' strategy.

"We roared with determination and played with the heart of lions. The victory of Gorakhpur Lions is a testament to the unwavering spirit of our team. Our players showcased not just their skills, but also the unity that defines us as a team. This win is a stepping stone towards our greater goals, and we will continue to strive for excellence on and off the field." – Mr. Veshesh Gaur, Director of Gaursons Sports Ventures.
The match proved to be a captivating encounter between two teams with potent strengths. The performances of key players, like Goswami, Yadav and Singh, added to the excitement, leaving fans and pundits eagerly awaiting the next clash in this gripping Uttar Pradesh T20 tournament.
The squads displayed their strength and depth:
Meerut Mavericks: Shoaib Siddiqui, Uvaish Ahmed (wk), Rinku Singh, Madhav Kaushik (c), Divyansh Joshi, Swastik Chikara, Vaibhav Chaudhary, Akshay Sain, Yash Garg, Purnank Tyagi, and Yogendra Doyla.
Gorakhpur Lions: Kaartikaya Singh, Sameer Choudhary, Abhishek Goswami (c), Siddharth Sarvan Yadav, Sunil Kumar, Harshit Sethi, Ankit Chaudhary, Rishabh Bansal, Vijay Kumar, Shivam Sharma, and Dhruv Pratap Singh.
Here's the table representing the Lucknow Falcons' inning:
Meerut Mavericks Score Card
| Batters           | R   | B   | 4S | 6S | SR     |
|——————-|—–|—–|—-|—-|——–|
| Shoaib Siddiqui   | 31  | 23  | 2  | 2  | 134.78 |
| Swastik Chikara   | 101 | 49  | 7  | 8  | 206.12 |
| Madhav Kaushik    | 0   | 3   | 0  | 0  | 0.00   |
| Rinku Singh       | 2   | 7   | 0  | 0  | 28.57  |
| Uvaish Ahmed      | 38  | 18  | 1  | 4  | 211.11 |
| Divyansh Joshi    | 9   | 7   | 1  | 0  | 128.57 |
| Purnank Tyagi     | 12  | 9   | 2  | 0  | 133.33 |
| Yash Garg         | 4   | 2   | 1  | 0  | 200.00 |
| Vishal Chaudhary  | 10  | 2   | 1  | 1  | 500.00 |
| Jamshed Alam      | 1   | 1   | 0  | 0  | 100.00 |
Extras: 5 (wides: 4, no-balls: 1, no lb)
Total: 213/8 in 20 overs
| Bowlers              | O   | M   | R   | W   | ECON   |
|———————-|—–|—–|—–|—–|——–|
| Sunil Kumar          | 4   | 0   | 28  | 1   | 7.00   |
| Dhruv Pratap Singh   | 4   | 0   | 34  | 1   | 8.50   |
| Vasu Vats            | 3   | 0   | 38  | 3   | 12.67  |
| Shivam Sharma        | 4   | 0   | 33  | 0   | 8.25   |
| Divyansh Chaturvedi  | 2   | 0   | 37  | 0   | 18.50  |
| Abdul Rehman-VI      | 3   | 0   | 43  | 2   | 14.33  |
Gorakhpur Lions Score Card
markdown
Copy code
| Gorakhpur Lions Inning | 214/2 (18.5 ov) |
|————————|——————|
| **Batters**            | **R**  | **B**  | **4S** | **6S** | **SR**   |
| Abhishek Goswami       | 48     | 36    | 9      | 0      | 133.33   |
| Harshit Sethi          | 19     | 13    | 4      | 0      | 146.15   |
| Yashovardhan Singh     | Not out | 81    | 40    | 10     | 3        | 202.50   |
| Siddharth Sarvan Yadav | Not out | 61    | 24    | 3      | 6        | 254.17   |
**Extras:** 5 (wides: 5, no-balls: 0, no lb)
**Total:** 214/2 (18.5 ov)
| **Bowlers**           | **O** | **M** | **R** | **W** | **ECON** |
|———————–|——-|——-|——-|——-|———-|
| Purnank Tyagi         | 3     | 0     | 43    | 1     | 14.33    |
| Kunal Yadav           | 4     | 0     | 49    | 0     | 12.25    |
| Jamshed Alam          | 3.5   | 0     | 55    | 0     | 14.35    |
| Vishal Chaudhary      | 4     | 0     | 26    | 0     | 6.50     |
| Yash Garg             | 3     | 0     | 22    | 1     | 7.33     |
| Vaibhav Chaudhary     | 1     | 0     | 19    | 0     | 19.00    |