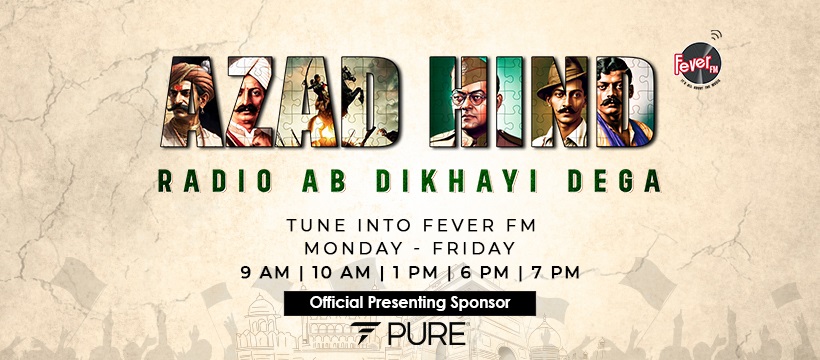 New Delhi, 6th September 2023: PURE EV, one of the leading EV2W OEMs in the country, has launched a new audio drama series, 'Azad Hind – Radio Ab Dikhayi Dega' in association with Fever 94.3 FM. The show unveils untold stories of freedom fighters and their struggle in a captivating audio drama series. It is an attempt to chronicle our rich past to familiarise our young generation with our freedom fighter's sacrifice.
The association includes on-air activity and ongoing sponsorship of the show and airs Monday to Friday, hosted by Ashutosh Rana. With a strong storyline and exceptional narration, the series has been able to captivate the audience. Since its launch, the series has received rave reviews on social media. The series presents gripping stories of our unsung freedom fighters' heroic deeds and unwavering commitment.
Commenting on the association, Rohit Vadera, CEO and Co-founder of PURE EV, said, "It is important to understand the contributions of freedom fighters because they fought for the rights and independence of people who face constant repression. They risked to help people who do not have a voice or representation in their country. We are really proud to be associated with a thought-provoking show like Azad Hind."
PURE EV manufactures electric scooters, motorcycles and high-performance Lithium batteries. The company has set up a dedicated EV and battery manufacturing unit measuring over 1 lakh sqft and has a dedicated facility for R&D for EV powertrain development and testing. PURE is currently one of the leading EV2W brands in India and also has a dominant position in exports to South Asian countries Nepal and Bhutan. The company is focused on building products the mass consumer loves and building a trustworthy brand name in EV.