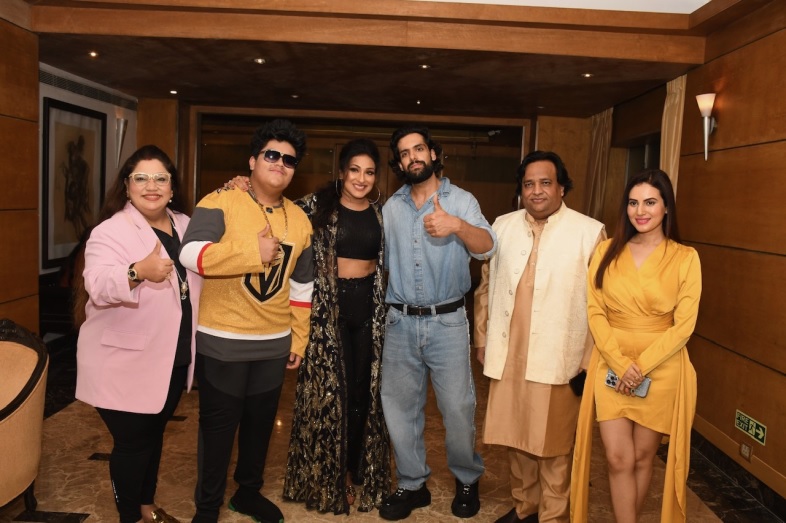 Kolkata, 6th October, 2023: With the promotions of "Hum Tumhein Chahte Hain" in full swing, fans are being treated to a plethora of incredible moments. The starcast Rituparna Sengupta, Janmejaya Singh and Anusmriti Sarkar with Producers Rema Lahiri Bansal, Govind Bansal and Singer Rego B Lahiri promoted their movie today at Hotel Hindusthan International, Kolkata. Rego B the grandson of the late and celebrated singer and music composer, Shri Bappi Lahiri, takes center stage with his remarkable playback debut in the upcoming Bollywood film Hum Tumhein Chahte Hain with the song "Seva Seva."
The star-studded cast includes the incredibly talented Janmejaya Singh who marks his debut in Bollywood and hails from Delhi, Rituparna Sengupta, Govind Namdev, Anup Jalota, Rajpal Yadav, Zakir Hussain, Anusmriti Sarkar, Arun Bakshi, Surendra Pal, Tinaa Ghaai, Anil Nagrath, Kaushal Shah, Sangeeta Singh, and Hitesh Sampal. With such a stellar lineup, "Hum Tumhein Chahte Hain" promises to deliver powerful performances that will resonate with audiences.
The Indian music fraternity is in for a sensational treat as 13-year-old singing prodigy, Rego B, takes center stage with his remarkable playback debut in the upcoming Bollywood film "Hum Tumhein Chahte Hain" with the song "Seva Seva,". The song promises to be a musical extravaganza, adding a vibrant and youthful touch to the film. This entertaining and comic item song is picturized on the renowned Bollywood actor Rajpal Yadav, who is known for his incredible comic timing and stellar performances.
Commenting on this momentous occasion, Rego B says "I believe that 'Seva Seva' is not just a song; it's a tribute to my grandfather's musical legacy and a heartfelt expression of my passion for music. It's an incredible honor to sing the composition of Shri Bappi Lahiri and be part of this historic moment in the Indian music fraternity. I hope that through the song,' I can share the love, joy, and nostalgia that music brings to our lives and make my family proud".
The soulful and melodious music for the film is composed by the legendary Bappi Lahiri, with Rema Lahiri as the Associate Music Director and Bappa B Lahiri handling the Background Music. The heart-touching lyrics are penned by none other than Rajann Lyallppuri. The film boasts an incredible lineup of singers, including Bappi Lahiri, Shaan, Rego B, Palak Muchhal, Alka Yagnik, Sana Aziz, and Anup Jalota, ensuring that the music will tug at your heartstrings.
"Hum Tumhein Chahte Hain" is produced by the dynamic duo Govind Bansal and Rema Lahiri and Directed by the visionary Rajann Lyallppuri, this masterpiece promises to captivate audiences worldwide on the 13th of October, 2023.