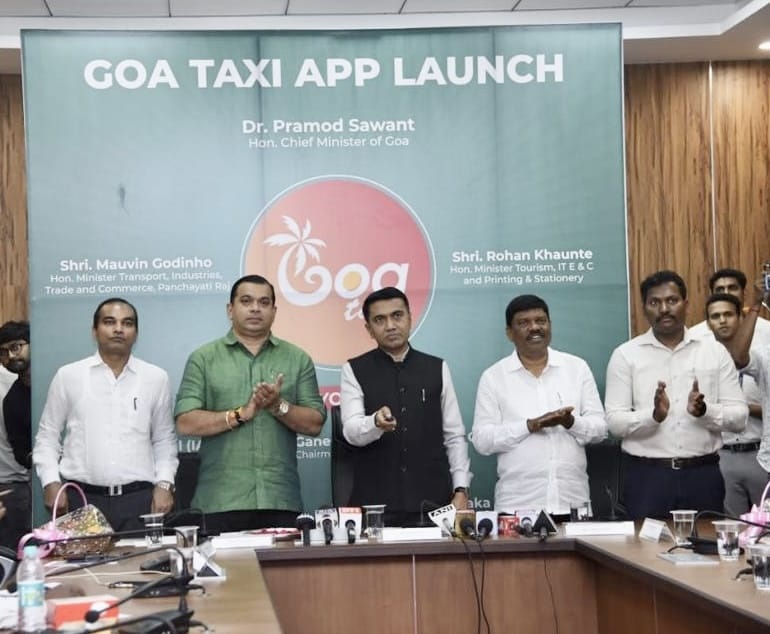 16th September, 2023, New Delhi: The Department of Tourism, Goa, launched the "Goa Taxi App" at the distinguished hands of the Hon'ble Chief Minister of Goa, Dr. Pramod Sawant, and the Hon'ble Minister of Tourism, ITE&C, Printing & Stationery, Goa, Shri. Rohan A Khaunte, in the august presence of Shri. Ganesh Gaonkar, Chairman GTDC, Shri. Sanjay Goel, IAS, Secretary of Tourism, Goa and Shri. Suneel Anchipaka, IAS, Director of Tourism, Goa.
This app has been introduced to ensure hassle-free commuting and an enhanced traveling experience for residents and visitors across the state. Additionally, it will provide the Goan Taxi Drivers an opportunity to increase their revenue within the state and offer a price advantage. For the residents and tourists, this app will also bring the convenience of hailing a cab from the comfort of their home or hotel.
Key Features of The Goa Taxi App:
●     Mobile app for driver registration and booking.
●     Cab hailing service for residents of the state and tourists arriving in the state.
●     Real-time updates to the driver, passenger, and command center.
●     Dynamic fare – based on time of day, location, and routes.
●     Integration with Google Maps for location services.
●     Payment – integration with Payment Gateways for – Wallet, Cards, and UPI payment.
●     Cash payment.
●     SOS for the passenger (in case of an emergency).
●     SOS for the driver (in case of an accident/breakdown).
The Goa Taxi App makes it simple to book a taxi at any time of day or night. For a visitor in particular, a driver-driven cab at an inexpensive rate will be preferable to a self-driven car or bike. When a tourist is unfamiliar with a region's topography and relies on Google Maps, it results in a stressful experience. With the use of a unified taxi app system, passengers can rate the driver, report any instances of inappropriate behavior, and request assistance through the call center. In addition, the app has an SOS in case of any catastrophe, malfunction, emergency, or security feature pertaining to the protection of female travelers.
Speaking on the occasion of the app launch, Hon'ble Chief Minister of Goa, Dr. Pramod Sawant, said, "Over the last four years, it has been our goal to develop innovative technology in various sectors in order to increase the ease of living and happiness index of both tourists and residents in Goa." We've had a positive response for the last six months, and today we're launching the Goa Taxi App. Our goal is to attract quality visitors rather than numbers. It would also assist in decreasing accidents and keeping women safe while traveling. I encourage everyone to use the Goa Taxi App, and I commend those who have already done it reflects their trust in the Government."

Hon'ble Minister of Tourism, ITE&C, Printing & Stationery, Goa, Shri. Rohan A Khaunte, said, "Today, marks the launch of the Goa Taxi App, which has been made free of cost. Tourism is a significant component of our state and hence hassle-free transportation is crucial. This app will be handed over to those in charge of taxi services. Both tourists and the local Goan population will benefit from it. In terms of price, we'll use prices approved by the Director of Transportation. This service has been running at the MOPA airport over a counter for the previous six months. The results have been favorable since more than 500 rides were availed and over 1,000 vehicles are registered on the Goa Taxi App. So far, we have served approximately 30,000 tourists. We will ensure that it's offered not only in coastal belts but also near industrial estates to encourage carpooling and other initiatives. It is a hassle-free, 24/7 booking service. Another feature is that instant feedback can be given by passengers and they can even rate the drivers. Plus, a call center is available in the event of misbehavior. There is also an SOS emergency center for women."
Henceforth, to book a taxi, one can download the "Goa Taxi App" from Google Playstore.