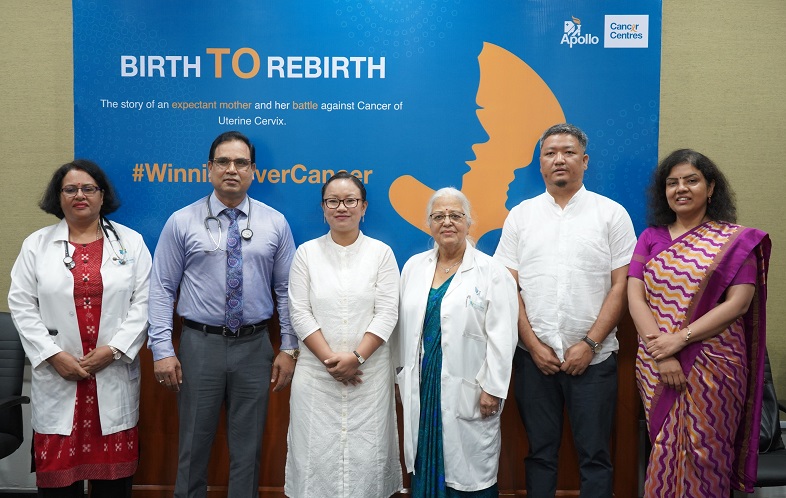 New Delhi, 25th August 2023: Ms. Marina Ch Ralte, a 39-year-old expectant mother, faced a challenging situation when she was diagnosed with cancer of the uterine cervix during her pregnancy. Under the expert care of the medical team at Apollo Cancer Centre (ACC), Indraprastha Apollo Hospital, New Delhi, she not only won over cancer but also gave birth to a healthy baby girl.
Ms. Marina approached ACC, Indraprastha Apollo Hospital, New Delhi, with a complex medical condition Sixteen weeks into her pregnancy, she was diagnosed with a 7-cm long tumor in her uterine cervix. Facing a dual challenge of pregnancy and cancer, her case required a highly specialized and tailored treatment approach. The medical team at ACC, comprising medical oncologists, gynaecologists, surgical oncologists, fetal medicine specialists, and radiation oncologists, worked on a comprehensive treatment plan for the best outcome.
Ms. Marina underwent a total of 7 cycles of chemotherapy, which were carefully administered to ensure the safety and well-being of both the mother and the unborn child. Throughout the chemotherapy process, the ACC team conducted regular fetal monitoring to closely track the baby's development and ensure her health too.
During the course of treatment, Ms. Marina faced significant bleeding complications, which were managed with supportive care by the dedicated medical team. After the second cycle of chemotherapy, her bleeding ceased, demonstrating the effectiveness of the treatment. As her pregnancy progressed, the medical team decided on a strategic plan for the safe delivery of the child. She underwent a Lower Segment Caesarean Section (LSCS) during her 37th week of pregnancy, resulting in the birth of a healthy baby girl.
Following her successful delivery, she continued with her chemo, and radiation therapy followed by brachytherapy, a specialized form of treatment that delivers radiation therapy directly to the cancer site. The treatment also gave time for her gravid uterus to return to its normal size. Her cancer is presently in remission, and she now enjoys the joys of motherhood with a healthy child by her side. The baby's health continues to be closely monitored to ensure her well-being. The comprehensive treatment approach aimed to provide her with a speedy road to recovery while also prioritizing the health and well-being of her newborn.
Cervical cancer takes centre stage as a notable malignancy during pregnancy, exhibiting estimated incidences spanning from 0.8 to 1.5 cases per 10,000 births. A study reveals that 1-3% of women diagnosed with cervical cancer are either pregnant or in the postpartum phase. The majority of these cases come to light during prenatal care or within a year after childbirth. Most of the patients receive their diagnosis at an early stage of the disease. Among gynaecological malignant tumors during pregnancy, cervical cancer commands the forefront, comprising a significant 71.6%, trailed by ovarian malignant tumors at 7.0.
Dr P.K. Das, Senior Consultant – Medical Oncology, Apollo Cancer Centre, Indraprastha Apollo Hospital, New Delhi said, "Ms. Marina's journey was a testament to the strength of the human spirit and the power of comprehensive medical care. This case was truly exceptional, requiring the expertise of a multidisciplinary team. Our priority was to safeguard both the mother's health and the developing baby. We administered safe chemotherapy drugs after monitoring the baby's growth, ensuring that Ms. Marina received optimal treatment."

Dr Mano Bhadauria, Senior Consultant, Radiation Oncology, Apollo Cancer Centre, Indraprastha Apollo Hospital, New Delhi said, "Pregnancy with cancer is rare. These cases are challenging because sometimes Medical Termination is not feasible, or it may be a precious pregnancy. We have to ensure the safety of the unborn child while administering the continuation of the treatment. Ms. Marina's journey exemplifies the power of modern medicine and teamwork. Our approach was to meticulously tailor her treatment, considering not just her own health but also the well-being of her unborn child. This case underscores our commitment to pushing boundaries for our patients, fostering hope, and transforming challenges into triumphs."

Dr. Shakti Bhan Khanna, Senior Consultant, OBS & Gynaecologist, Apollo Cancer Centre, Indraprastha Apollo Hospital, New Delhi said, "Pregnancy coupled with cancer presents unique challenges that demand a personalized and meticulous approach. Our experience in handling such cases allowed us to provide Ms. Mariana with the best possible care, resulting in a remarkable outcome."

Dr Anita Kaul, Senior Consultant, Fetal Medicine, Apollo Cancer Centre, Indraprastha Apollo Hospital, New Delhi said, "In cases like Ms. Mariana's, where life's most precious moments coincide with medical challenges, our goal is to provide comprehensive care that nurtures both the patient's health and the promise of a new life. The achievement of such a remarkable feat is a tribute to the collaborative synergy of our multidisciplinary team and the resilience demonstrated by our patients."

Ms. Marina, a cancer winner, and a proud mother said, "Facing cancer while carrying my little one was extremely challenging, but at ACC, Delhi, I not only found the right treatment, but I also came across an unwavering support that helped me see a new ray of hope. My journey at ACC not only brought healing but also empowered me with the priceless gift of motherhood. Through the challenges of cancer diagnosis and pregnancy, I found hope, healing, and the joy of welcoming my precious baby girl. I am forever grateful for their expertise and compassion that made this miracle possible."
The success of Ms. Marina's case underscores ACCs' focus on providing individualized treatment plans that prioritize the well-being of patients and their families. They continue to make significant strides in cancer treatment and care, setting new benchmarks for medical excellence and patient outcomes.
#WinningOverCancer