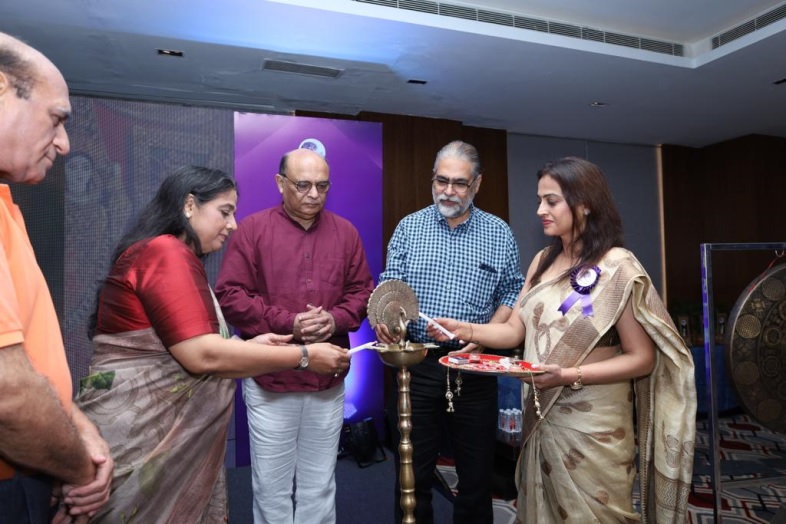 Gurugram, October 9, 2023: Manasthali, a leading mental health advocacy and awareness organization, conducted the much-anticipated 'Manotsava 2023- Curtain Raiser' event here just days ahead of the World Mental Health Day on October 10th, 2023 at Gurugram. Aligning with the theme 'Sensible Use of Senses' of the festival, an experiential workshop on sound healing was organised for all participants to get engaged in immersive experiences involving various sound frequencies and vibrations, typically produced by instruments like singing bowls, gongs, chimes, or the human voice.
'Manotsava 2023' is an annual mental health celebration organized by Manasthali-Mental Health & Wellness Services and is dedicated to fostering awareness, understanding, and support for mental health issues within our society. The initiative was taken to bring mental health problems out of the medical conferences to the general public. This year's 'Curtain Raiser' event is designed to set the stage for a month-long series of initiatives and activities aimed at promoting mental well-being.
Dr Rajeev Gupta, Director-CEO, Institute of Mental Health, Rohtak was the chief guest, whereas, Dr Tabassum Jamal, Chairperson, Zaheer Science Foundation. Dr Deepak Bhatia, President, IMA, Gurugram; Dr Umesh Gupta, Secretary, IMA and Dr Rajesh Kataria, President, NU were the guests of honour of the event.
A panel discussion on mental health was held and eminent panellists including Dr Shambhavi (Expert- Music Therapy), Dr Sanj Hall (Expert-Sound Therapy), Dr Richa Dhamija (Expert EFT & Hypnotherapy)Maj Vivek Singh (Expert – Diet & Nutrition), Dr. Jyoti Kapoor (Mental Health Expert and Founder), Ms Aishwarya Raj (Clinical Psychologist) and Ms Priyanka Sachdeva (Expert- Aroma Therapy) shared their views.
"We are thankful for our esteemed guests for gracing the occasion. In a world filled with constant sensory stimulation, it's crucial to explore how our senses impact our mental health. This theme of 'Sensible use of senses' invites us to reflect on the significance of sensory experiences, their role in our emotional well-being, and how we can use them sensibly to maintain a healthy mind. In the exclusive.," said Dr Jyoti Kapoor, Founder-Director and Senior Psychiatrist, Manasthali.
Dr Kapoor added treating mental health problems needs a collaborative approach.
"That's the reason we are celebrating wellness while basking in nature's glory with enthusiasts from all walks of life with music, food, entertainment, positivity and gaiety. People can meet and interact with our wellness associates. Let positivity seep through you with music, art, dance and healing food specially curated for the occasion," Dr Kapoor added.