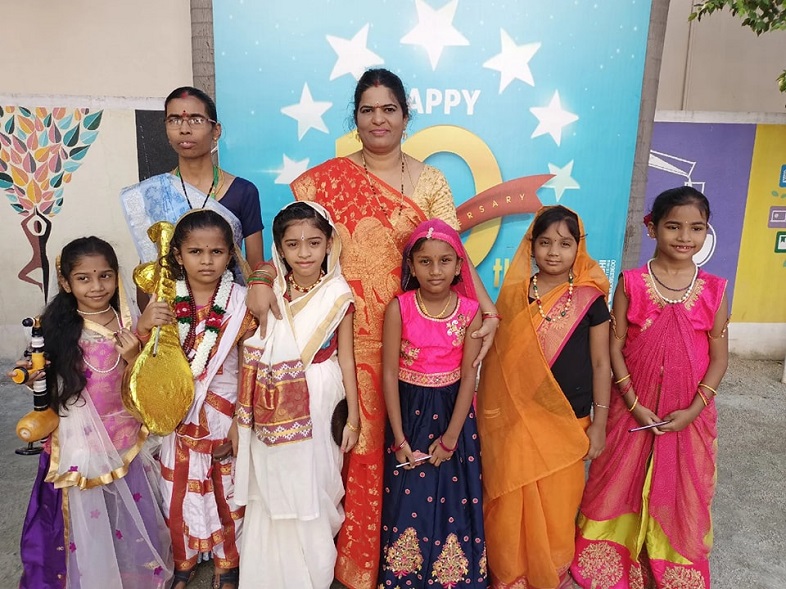 New Delhi, 16th September 2023 – Academic Heights Public School, being one of the most prominent Nation's leading education providers, celebrated Hindi Diwas, across all its branches, emphasizing the importance of our Mother tongue in every stage of education. The event was held on 14th September 2023 across all Academic Heights Public Schools in their respective playgrounds. It was a celebration filled with joy, knowledge and a strong sense of cultural pride. The celebration marked the day as a day of acknowledgment, valuing education and a sense of cultural belongingness to the youth, who are shaping up the future of our country.
Hindi Diwas is a significant occasion where we acknowledge and honour the role of our mother tongue, Hindi. Academic Heights Public School took the opportunity to impart valuable lessons about the significance of the Hindi language that defines our nation by organising short plays, reciting Hindi poems and interactive sessions.
The highlights of the Hindi Diwas celebrations were as follows: Storytelling Session- At the beginning of the event, teachers narrated moral stories in Hindi, imparting valuable life lessons like friendship, kindness, and respect, to the students, which allowed the students to engage with the language and absorb its essence effortlessly.
Hindi Poem Competition: Students were dressed in traditional attires, representing India's cultural diversity. They all recited poems of the most famous Hindi poets, Kabir Das and Harivansh Rai Bachchan, honouring them with a sense of gratitude and appreciation.
Hindi Short Plays: On the occasion of Hindi Diwas, a short play was organised by the teachers. Students participated enthusiastically in a play titled "Humari Hindi Katha", which was a blend of storytelling, song, and dance in Hindi.
Group Song Performance: Teachers engaged the young minds with a group song performance, where all the children sang a Hindi patriotic song, expressing their love for their motherland and the Hindi language. The audience couldn't help but join in the celebration.
The school administration believes that early exposure to Hindi not only fosters language development but also a sense of history. Commenting on the same belief, Mr. Ajay Gupta, Founder of Bachpan Play Schools & Academic Heights Public Schools, said, "Hindi Diwas is a day of not only honouring a language, but it is about celebrating our identity. Our goal is to create an environment for children to learn while having fun."
Lastly, all school premises were adorned with vibrant decorations, including colourful props and rangoli, transporting the children into a world of wonder and excitement.
Hindi Diwas celebrations at Academic Heights Public School not only promote the Hindi language but also instill a deep sense of pride in our rich cultural heritage among the future torchbearers of our nation.