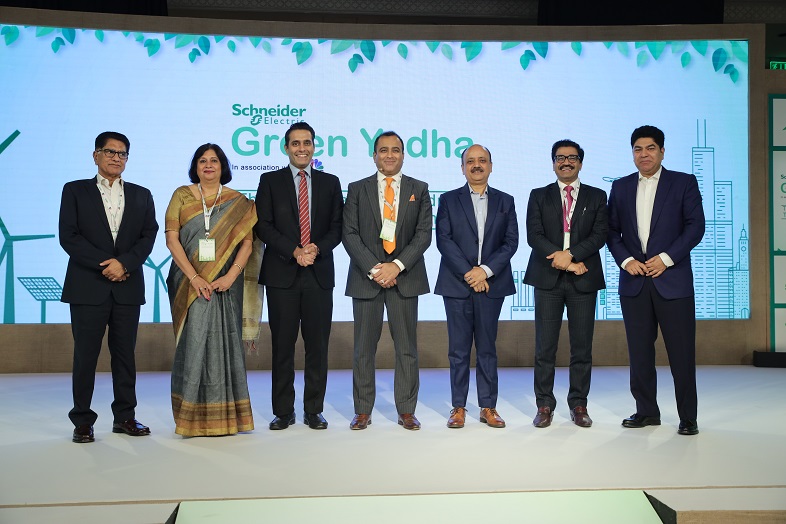 Mumbai, 30 August, India: Schneider Electric, the leader in the digital transformation of energy management and automation, recently organized a CXO connect aimed at attracting prominent industry leaders for a dialogue on accelerating actions towards sustainability. Acknowledging Amritkaal as a pivotal moment in India's economic and social progress, Schneider Electric advocated for industries and corporations to adopt a more electric and digital strategy, accelerating the nation's journey towards a more sustainable future.
While India has emerged as a leader in mitigating the climate crisis, its key contributors to carbon emissions include sectors like industry, buildings, and transportation, accounting for 46%, 28%, and 16%, emissions respectively. This is where electric and digital technologies can emerge as game-changers. The swift adoption of existing digital and energy-efficient technologies at scale has the potential to curtail carbon emissions significantly.
The event, which was part of the organization's 'Green Yodha' sustainability drive, saw attendance of prominent industry leaders including Mr. G Asok Kumar, I.A.S, Director General, National Mission for Clean Ganga; Mr. Sriram Khattar, MD, DLF Rental Business, Mr. Sunil Gupta, MD and CEO, Yotta Data Services, Mr. Anshuman Magazine, Chairman & CEO, India, South East Asia, Middle East & Africa, CBRE; Mr. Videh Jaipuriar, CEO, Delhi International Airport Limited and Ms. Vibha Dhawan, Director General, TERI.
Emphasising the role of India Inc. in driving the country's sustainability journey, Mr. Deepak Sharma, Zone President and MD & CEO, Schneider Electric India, said, "Today, sustainability has transformed from a mere superficial metric into a fundamental metric of rationality. It stands as a key differentiator in driving business continuity, longevity, and agility. Sustainability should be embedded across operations, an all-electric – all-digital world is critical for reducing carbon emissions significantly. Aligned with this, Schneider Electric conceptualised its flagship Green Yodha sustainability initiative to rally like-minded businesses, organisations, governments, and individuals to take collective actions in the fight against climate change.
Initiatives like these are a nudge in that direction. The pursuit of sustainability can only be achieved through increased collaboration, creating an ecosystem committed towards driving positive climate action."
Highlighting the need to increase awareness and actions around sustainability, Mr. Rajat Abbi, Vice President, Global Marketing, Chief Marketing Officer, Greater India, Schneider Electric said, "With our Green Yodha campaign, we have forged an ecosystem of eco-warriors driving vital climate action. Our mission is to accelerate sustainability and nurture community-driven decisive climate action. Our Green Yodha drive has been successful in resonating with citizens, big corporations and MSMEs alike, including government bodies and industry giants. As we move ahead, our vision expands—to unite nations, corporations, and citizens.
Through thought leadership forums such as these, we aim to unite industry leaders and thought drivers to join hands and chart a Sustainability Roadmap. Our holistic approach extends beyond a conventional campaign; it's a conscious call for a greener, brighter future, built on sustainability, innovation, and collective action."
During the event, an array of crucial topics was deliberated, shaping the discourse on India's future trajectory:
· Data Center Growth and Sustainability: Projections unveiled a threefold expansion of the Indian data center market by the decade's end, accompanied by a three to fivefold surge in infrastructure spending. This growth, fueling a $500 billion investment in global markets, necessitates a six-fold increase in electricity demand. The resounding consensus was that embracing decarbonization, digitization, and electrification across all sectors is imperative. Leaders underscored the value of investing in energy-efficient technologies for long-term ROI. Sustainable practices, including 100% green power and energy-efficient hardware integration, along with standardized operating procedures to reduce data center cooling, were emphasized.
· Aviation's Sustainable Flightpath: The Indian aviation sector's commitment to sustainability was a focal point, with 146 airports slated to achieve carbon neutrality by 2025. Initiatives such as smart and digital electrical systems, energy-efficient lighting, taxibot deployment, enhanced waste management, green infrastructure development, and the promotion of sustainable aviation fuel were highlighted as pivotal steps in making the sector sustainable.
· Green Building Certifications: Managing a building's electricity consumption was acknowledged as a formidable challenge. Nevertheless, green building certifications emerged as a driving force for the real estate sector, motivating the construction of sustainable infrastructure. The significance of net-zero buildings in realizing India's net-zero aspirations was also underscored.
· Combatting Water Scarcity: A pressing concern echoed throughout the event was the urgency of addressing water scarcity. The adoption of the 5R principles—reuse, reduce, recycle, rejuvenate, and respect—was championed as a means to drive behavioral change among the populace. Residential and commercial campuses were encouraged to implement practices like rainwater harvesting and wastewater treatment to foster a water-positive India. Additionally, the importance of awareness campaigns involving building inhabitants in support of sustainable water practices was highlighted.
Schneider Electric remains resolute in its commitment to decarbonising every aspect of the Indian economy through initiatives like these. Become a #GreenYodha today and Join the Good Fight!