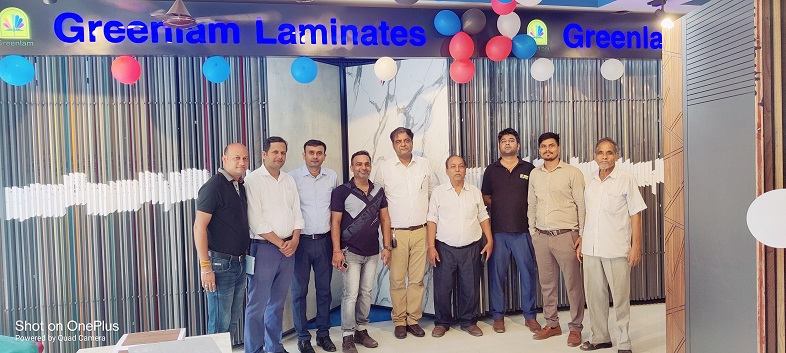 30th August, 2023, Haryana– Greenlam Industries, among top 3 manufacturer in the world for surfacing solutions, recently inaugurated exclusive display centre at Balaji Enterprise, Opp Devi Lal Stadium, Sohna, Haryana. The showroom will showcase a distinctive selection from the latest collection of Greenlam Laminates, establishing its distinction as the sole establishment in Sohna that provides such a varied assortment within the laminate segment.
Greenlam Industries has been known for creating high-quality surface solutions integrated with elegance. Its legacy of unflinching passion for excellence along with exceptional artistry and finesse quality is clearly visible in its flagship brands' offerings. Its diverse range offers an extensive assortment of textures, colours, and designs for Greenlam's customers. This multi-functional gamut of products is meant to give Greenlam's consumers flexibility while designing their spaces and enhance the creativity of their interiors.
Greenlam manufactures each laminate with meticulous attention to detail, ensuring that only superior laminates of international standards, trends, and the highest quality are delivered. From woodgrain patterns to solid surfaces, each decor is designed to perform faultlessly in residential, commercial, and public environments. The laminate sheets also come with several distinct properties such as antibacterial, fire retardant, heat, scratch, and impact resistant while also offering a wide variety of product categories in their laminate and compact collections. These include anti-fingerprint surfaces, HD-gloss surfaces, countertop laminates, unicore laminates, digital or custom laminates, compact boards, cladding solutions, and restroom cubicles, among many others. The showroom was inaugurated by Mr. Sudhakar Singh, Regional Sales Head – Delhi & NCR – Greenlam Laminate & Allied with the presence of various other contractors and carpenters.
Commenting on the inauguration Mr. Sudhakar Singh, Regional Sales Head – Delhi & NCR – Greenlam Laminate & Allied says "With immense excitement, we are thrilled to announce the grand opening of our first exclusive retail centre in Sohna, bringing an unparalleled shopping experience to the residents. This marks the exciting debut of our dedicated space in this area, where we will be showcasing a stunning selection of laminate sheet designs from our latest Greenlam collection, tailored for interior spaces. This also provides an excellent opportunity for customers to explore a wide range of laminate options. Our goal is to make the buying process more convenient and smoother, ensuring a memorable and effortless shopping experience for all our valued customers."