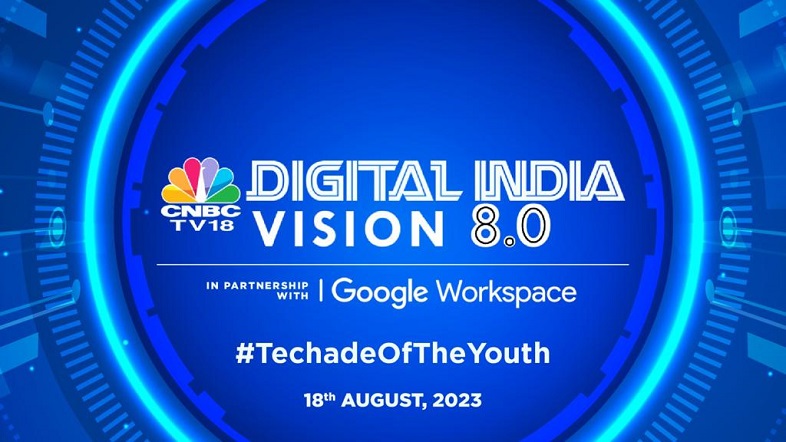 New Delhi | 18 August, 2023: CNBC-TV18 is set to host the 'Digital India Vision 8.0: Techade of the Youth' conclave in Partnership with Google Workspace. The event will deep dive into the various facets, the progress, challenges and incredible opportunities that lie ahead for India as it innovates to become a connected knowledge economy. The event will take place at Taj Palace in New Delhi on August 18 and will host discussions on India's vision of accelerating its digital revolution – to redefine its Techade, a decade dominated by technology.
The conclave will witness participation from prominent figures including industry pioneers, thought leaders, and policymakers, who will discuss India's most pressing challenges and promising opportunities in its digital landscape. Rajeev Chandrashekar, MoS, Communications & Electronics & Information will deliver the ministerial keynote speech, where he will speak on the implementation of the Digital India Act to bridge the digital divide in the country. Other speakers include Subram Natarajan (Director, Custom Engineering, Google Cloud), Aniket Doegar (Co-Founder & CEO, Haqdarshak), Osama Manzar (Founder – Director, Digital Empowerment Foundation), Simranpreet Singh Oberoi (Co-Founder – Sanjhi Sikhiya, Punjab Education Collective), RS Sharma (CEO, National Health Authority), Arghya Sengupta (Founder and Research Director, Vidhi Centre for Legal Policy), Purushothaman KG (Partner and Head, Digital Solutions & Telecommunications Industry Leader, KPMG) Vinayak Godse (CEO, Data Security Council of India), among others. The speakers will also deliberate on the upcoming trends in financial transactions and impact of AI-driven advancements and changes in the telecommunications sector.
India has witnessed a digital revolution since the last decade, with rapid adoption of evolving technologies across diverse sectors. The conclave aims to holistically identify India's strengths and areas of improvements that will define the country's next phase of digital growth. The segment dedicated to 'Atal Tinkering Labs' will showcase activity based learning that shapes young minds to mitigate societal problems with the help of innovation. From sessions revolving around 'Navigating the Digital Regulatory Landscape', 'Empowering India's Technology Startup Sector', to 'Embracing the Present and Future of Digital Payments & Lending', the discussions are designed to promote understanding, encourage cooperation, and facilitate dialogues that steer the country towards its aspiration of evolving into a connected knowledge-based economy.
Shereen Bhan, Managing Editor, CNBC-TV18 said, "This edition of 'Digital India Vision' marks the 8th year of our annual initiative that explores what lies ahead for Digital India, not only from the perspective of new technologies but also policy innovations & interventions like Atal Tinkering Labs, Digital India Act etc that are going to be the likely cornerstones of the next phase of India's digital growth growth journey. At CNBC-TV18, our aim is to foster dialogue, comprehend challenges, seize opportunities, and inspire innovation."
'Digital India Vision 8.0: Techade of the Youth' will be broadcast live on CNBC TV18, starting 5 pm on 18 August 2023. It will also be streamed live on the channel's YouTube platform.