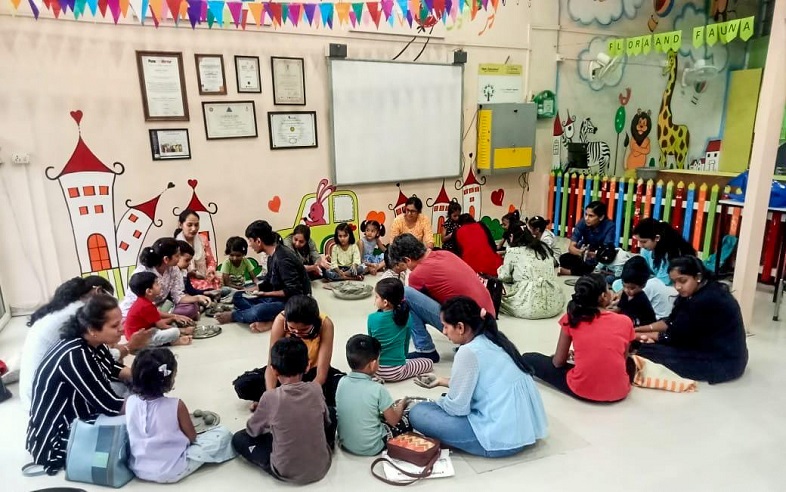 Pune, 21st September 2023: In a vibrant display of creativity and environmental responsibility, students from Lexicon Kids Preschools and Child Development Centres and The Lexicon Schools, Pune have embarked on a unique journey to welcome Lord Ganesha. They have chosen to celebrate Ganesh Utsav in an eco-friendly manner by actively participating in a Ganesh Idol-Making Workshop.
The workshop, organized by The Lexicon Schools and Lexicon Kids, aimed to ensure that the young students do not miss out on the joy of welcoming their beloved Lord Ganpati Bappa. Under the guidance of Mr. Sunny, Art Teacher at The Lexicon Schools, the students delved into the world of art and craftsmanship.
Students of ages 5 to 8, along with the respective staff members, joined hands to celebrate this special event. The initiative was led by Mrs. Amrita Kamble and her dedicated team from ELE Activities (Experiential Learning Enterprises). The event commenced with a fascinating storytelling session about Lord Ganesha's birth, setting the stage for an artistic adventure for the young Lexiconites.
With eco-friendly materials like 'shadu mati,' water, tilak, and garland at their disposal, the students crafted their own unique Ganesh idols, giving free rein to their artistic imaginations. This hands-on experience not only honed their artistic skills but also instilled the importance of proportion, quantity, time management, and the necessity of environment conservation through eco-friendly products and materials.
Mrs. Petronella Eates, Principal of The Lexicon International School, Wagholi, shared her thoughts on this enriching initiative, stating, "This workshop allowed our students to go beyond the conventional art forms, encouraging them to explore their creativity and fine-tune their motor skills. It is heartening to witness our young Lexiconites taking the pledge to celebrate an eco-friendly Ganesh Utsav."
At Lexicon Kids Preschools and Child Development Centres, the students exhibited their artistic imagination by sculpting Ganesh idols in various sizes and designs. They not only developed eye-hand coordination but also nurtured their imagination, turning the process of art-making into an enjoyable journey.
Mrs. Aditi Thakker, Head Principal,Lexicon Kids, and Principal, Lexicon Kids, Viman Nagar, emphasized the significance of this workshop, stating, "The students' active participation in this eco-friendly Ganesh Idol Making Workshop reflects their commitment to preserving our environment. This initiative serves as a valuable learning experience, fostering creativity, sensitizing the young minds towards Mother Nature, and instilling a sense of responsibility for the future generation."
Through this workshop, the students of Lexicon Kids and The Lexicon Schools, Pune have sealed their commitment to celebrating an eco-friendly Ganesh Utsav. They have pledged to immerse the Ganpati idols in an environmentally delicate manner, leaving a positive footprint on both the artistic and ecological fronts.