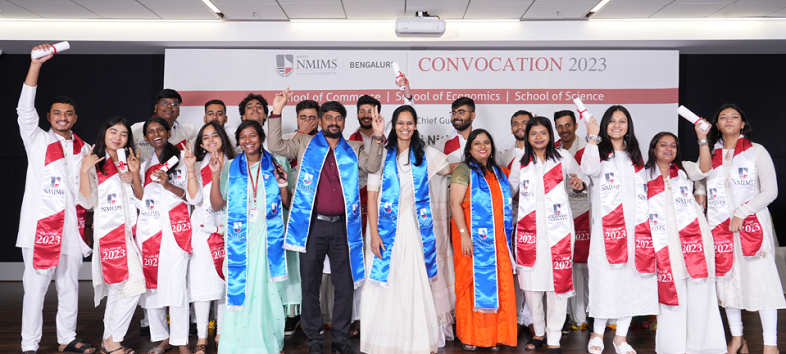 Bengaluru, 21st August, 2023: SVKM's NMIMS Bengaluru hosted its convocation ceremony, where 200 bright graduates from the School of Commerce (SoC), School of Economics (SoE), and School of Science (SoS) were conferred degrees. Mr. Nitin Pai, CMO & Chief Strategy Officer at Tata Elxsi, Bengaluru, graced the occasion as the Chief Guest. The convocation ceremony held at NMIMS Bengaluru campus was attended by Dr. Ramesh Bhat, Vice Chancellor, NMIMS, Dr. Narayani Ramachandran, Deputy Director, NMIMS Bengaluru and Mr. Ashish Apte, Controller of examinations along with other senior staff and faculty members from NMIMS.
The students being convocated, who had completed various academic programs such as BBA, B.Sc. (Finance), B.Com. (Hons.), B.Sc. (Economics), and B.Sc. (Applied Statistics & Analytics), were applauded for their hard work and perseverance. The event was a significant day in the academic journey of the fresh graduates. While it signified the successful completion of their college life, it also symbolised their readiness to become professionals and embark on new and exciting chapters in their lives. The convocation ceremony saw the presence of dignitaries, faculty members, proud parents, and well-wishers, who witnessed the graduates being awarded their well-deserved degrees.
During the ceremony, V. Tejasvini, a B. Com (Hons) student, received recognition for achieving the 1st rank in her program. The event also showcased numerous accomplishments of both faculty and students, both within the institute and in external arenas, eliciting enthusiastic applause from the audience.
In his address, Mr. Nitin Pai, said, "I urge the fresh graduates to think creatively and boldly in their future endeavors. I want to add that true success is not measured by achievements but also by the positive impact you have on the lives of others and the society."
Speaking at the event Dr. Ramesh Bhat, expressed, "It is a joyous occasion and a celebration of excellence. The students' presence at this ceremony today is the result of years of hard work and determination. I take great pride in the graduates' achievements. As you step out of these haloed precincts, I am confident that you will excel in your chosen fields and make a mark in life."
Dr. Narayani Ramachandran, highlighted how the students' journey at NMIMS Bengaluru has equipped them with the knowledge and skills to steer through the complexities of the world. She further said, "My advice to them would be to consistently demonstrate a sense of responsibility in all their actions. I am certain that you will rise to any occasion and make a lasting impression wherever you go next."
The convocation ceremony exemplified NMIMS Bengaluru's dedication to fostering a culture of brilliance, innovation and global collaboration.