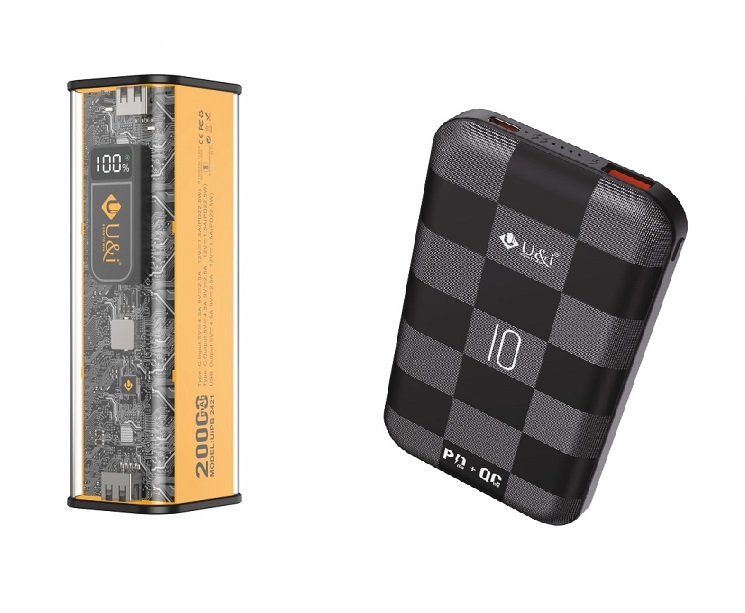 New Delhi, September 16, 2023: Travel without the fear of your gadgets running out of battery with these fast-charging Powerbanks. India's leading gadget, accessories, and consumer electronics brand U&i announces the launch of two powerful Powerbanks JUMBOKING Series and FORCE Series meant for those frequent travelers who are constantly on the move and need quick charging for their exhausted gadgets. With up to 22.5 watts of pure power, these new portable battery banks offer exquisite looks with a compact form factor and transparent body.
U&i JUMBOKING Series -20000mAhPowerbank:
The JUMBOKING is a splendid-looking Powerbank that will instantly draw eyeballs around you with its unique semi-transparent design, flaunting the pristine-looking PCB and components, giving it a futuristic look available in two awesome colours — Orange and Grey. Within this transparent window, you will also find the status LED which allows you to know the exact status of the charge within. Featuring a large 20000mAh battery backup, packed with intelligent circuitry the JUMBOKING can give you an astounding 25.5 watts of power so you can quickly charge your power-hungry devices, including smartphones, tablets, certain laptops, and a lot of other gadgets. The device has a total of three USB ports (a USB-C for input, and a USB-C and USB-A for output), and can automatically sense the connected device to supply the right voltage and wattage required for an efficient and quick charge. Each of these ports can support up to 22.5 watts of safe power, with a plethora of safety features — namely overcurrent, overvoltage, overheating, and overcharging. Lastly, the JUMBOKING is highly compatible with some of the top charging protocols such as Flash Charge, Turbo Charge, WARP, PD, SuperVOOC, DASH, and QC3.0.
U&i FORCE Series – 10000mAhPowerbank:
If you need something lighter, the FORCE series can become your travel companion available in an attractive Black and Grey checkerboard design. Slim and compact, the Powerbank features multi-protocol charging, including Charge Turbo, QC, PD, WARP, DASH, and SuperVOOC. The inbuilt 10000mAh batteries and its intelligent chipset, together combine to serve your devices with the right voltage (5V/9V/12V) with up to 22.5 watts (1.85A). Featuring twin power output ports (USB-C and USB-A), the FORCE is an excellent choice for those hunting for a pocketable Powerbank for their smartphones. The matte-finished chessboard-designed case is built for protection, while your priceless smartphones are protected from overcurrent, over-voltage, overheating, and overcharging.