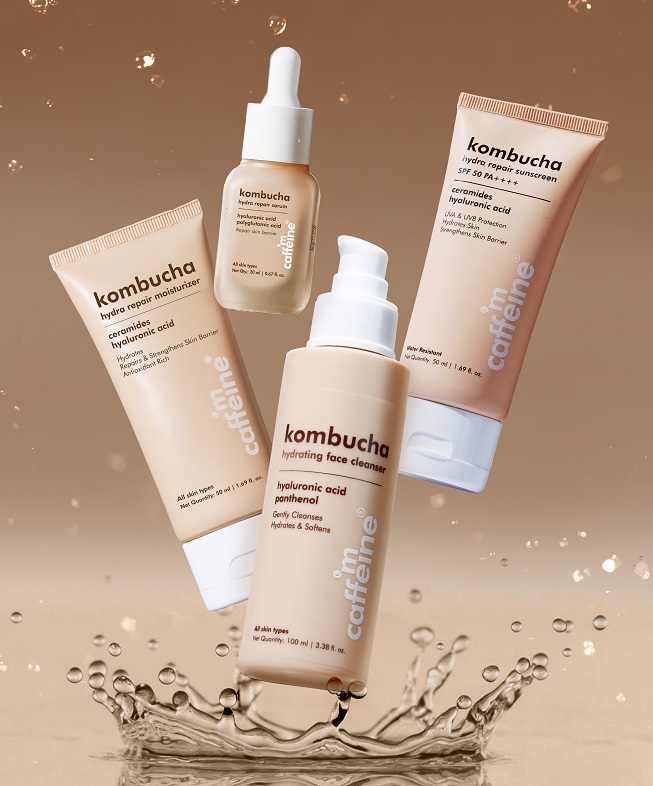 7th September 2023, India: mCaffeine is once again reshaping the industry landscape through its groundbreaking utilization of powerful ingredients. The brand is delighted to present an extraordinary skincare line, harnessing the transformative potential of Kombucha, marking a milestone in India's beauty industry. Kombucha's hydrating and barrier-repairing properties will propel it to become a leading product in the skincare industry.
Kombucha, celebrated for its potent superfood properties, takes center stage in mCaffeine's new product range, underscoring the brand's dedication to delivering effective and authentic skincare solutions. This launch follows mCaffeine's recent successful entry into the cosmetics realm with their vibrant lipstick collection. This unveiling reinforces mCaffeine's distinction as an industry leader, offering an unparalleled skincare journey that captures the essence of Kombucha in a class of its own.
As the skincare landscape continues to evolve, mCaffeine takes the initiative by harnessing the rejuvenating prowess of Kombucha – a superfood acclaimed for its extraordinary antioxidant attributes. Standing apart from the crowd, mCaffeine embarks on this exceptional venture, presenting a comprehensive lineup of Kombucha-infused products thoughtfully tailored to diverse skin needs.
The new range includes the following products:
– Kombucha Hydrating Face Cleanser: Enriched with the goodness of Kombucha Extracts (+Caffeine) and Hyaluronic Acid, this cleanser delicately purifies the skin. Aloe Vera and Panthenol infused in the product provide a surge of hydration, leaving the skin refreshed and nourished.
– Kombucha Hydra Repair Moisturizer: A fusion of Kombucha Extracts (+Caffeine) & Hyaluronic Acid that helps improve and strengthen the skin barrier function due to its rich antioxidant content. Ceramide, Peptide, and Vitamin E deeply hydrate the skin while retaining moisture, resulting in increased skin elasticity.
– Kombucha Hydra Repair Sunscreen SPF 50 PA++++: This sun-shielding elixir combines Kombucha Extracts (+Caffeine) & Hyaluronic Acid, to reduce UVA and UVB damage, free radical skin damage caused by pollution and environmental stressors and Ceramide help retain moisture while sealing in hydration, perfect for all skin types.
– Kombucha Hydra Repair Serum: The antioxidant rich serum, featuring Kombucha Extracts (+Caffeine) and Hyaluronic Acid, helps retain moisture and seal in hydration. Prickly Pear Extract and Polyglutamic Acid work wonders to revitalize and restore, leaving your skin supple and smooth.
Tarun Sharma, Co-Founder & CEO at mCaffeine, stated, "At mCaffeine, our dedication to innovation drives us to discover unique ways to enhance the self-care experience. The Kombucha-infused range is a testament to our commitment to providing our community with products that empower them to embrace their natural beauty while benefiting from the extraordinary properties of ingredients like Kombucha."

Vikas Lachhwani, Co-founder and Director, mCaffeine, emphasized, "Our Kombucha-infused range is a result of relentless research and passion to explore the caffeine universe. It reflects our commitment to creating products that not only nourish but also elevate your skincare routine. With this range we aim to build a unique skin care experience."
mCaffeine has consistently set itself apart as a brand that marries the magic of caffeine with nature's finest elements. This new Kombucha-infused range solidifies their position as a trailblazer in the Indian market.
mCaffeine stands as an unrivaled innovator in the world of skincare, their journey is a testament to their commitment to extracting the utmost potential from singular ingredients. From coffee to green tea, and later cacao, mCaffeine has meticulously harnessed the transformative power of each element, crafting distinct product ranges that capture their essence. Now, this journey of mastery reaches an inspiring zenith as mCaffeine introduces its groundbreaking Kombucha-infused range, a visionary exploration that accentuates the unmatched potential of this singular ingredient. Setting a new precedent in the industry, mCaffeine's commitment to surpassing expectations and redefining skin care experiences is palpable. With this launch, mCaffeine once again sets a defining standard, redefining self-care through unwavering dedication that transcends the surface.
The Kombucha range will be available for purchase starting 6th September 2023 on mCaffeine's official website and leading e-commerce platforms. With this launch, mCaffeine continues to inspire individuals to embrace self-care rituals that are both effective and enjoyable.