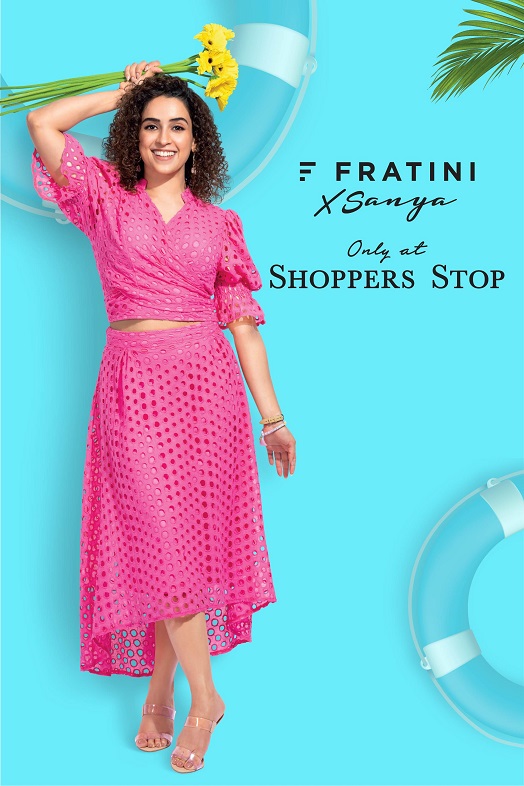 New Delhi, 7th September 2023: In line with the continued focus on private brands; the key strategic pillar of growth, this season, Shoppers Stop launched their new Fratini collection with their newest campaign 'Live Epic' with their brand ambassador, Sanya Malhotra.
The 'Live Epic' campaign encapsulates the spirit of the Fratini girl, who exudes confidence and effortlessly expresses her unique style. It introduces a stylish and trendy smart casualwear collection designed to inspire individuals to live life to the fullest and with confidence.
The Fratini campaign portrays Sanya as the cheerful and confident, Fratini girl who wants the best of both worlds. The woman of today, who wants to live life to the fullest, without making any choices. Her vibrant personality shines through as she embarks on thrilling adventures, shares meaningful moments with her mother, explores her passion for travel, pursues her career, and seeks love in her friend. Accompanied by an upbeat soundtrack, the advertisement effectively conveys the message of living an epic life without compromises.
The new Fratini collection offers an extensive range of dresses, modern workwear and relaxed casual ensembles in a delightful spectrum of colors and silhouettes. This collection aims to cater to the diverse preferences of today's women, providing a wide array of fashion to choose from.
Speaking about the campaign, Ms. Shwetal Basu, Customer Care Associate and Chief of Marketing and Communication at Shoppers Stop, said; "At Shoppers Stop, we are always committed to inspiring and engaging our customers, and we believe that self-expression lies at the heart of fashion. The 'Live Epic' campaign for Fratini underscores the brand's dedication to inspiring people to live life to the fullest and with confidence. Why just live, when you can Live Epic"
Sanya Malhotra, brand ambassador, expressed her excitement, saying, "I am so happy to be a part of Fratini's latest campaign and to represent Shoppers Stop, one of the most loved fashion and beauty destinations in India. Fratini's collection beautifully blends style and a liberated fashion narrative. The 'Live Epic' campaign captures me making life choices in different situations. I am especially excited about the creative expression that has been given to this campaign."