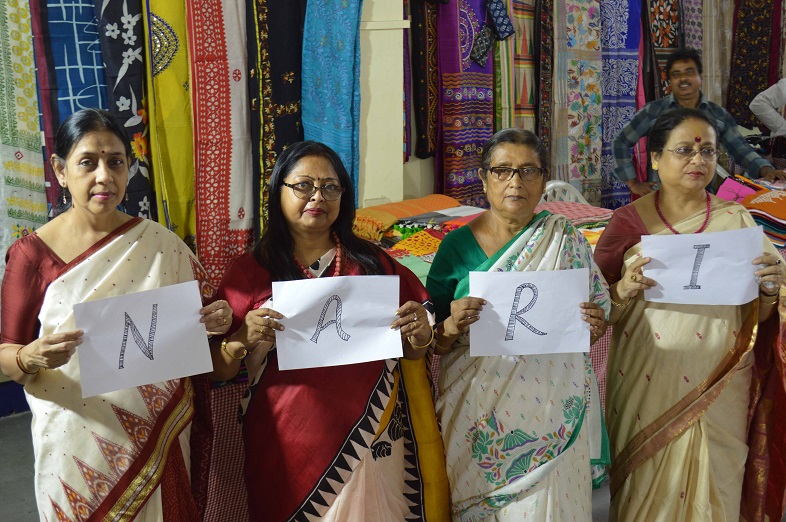 Hyderabad, September 14, 2023…….Sarees made out of bamboo fiber are a new attraction at this crafts exhibition organized by artisans from Shanti Niketan, West Bengal. Swayambhar Naari, the exhibition which is currently underway at YWCA in West Marredpally, Secunderabad has many products which are environmentally friendly. The exhibition will conclude on the 14th September.
Go green or go red it is said. Eco-friendly sarees are in demand now says Sudeshna Paul of Swayambhar Naari, a member of a voluntary group that is organising the exhibition.
Swayambhar Naari is a voluntary group from Shantiniketan formed to provide marketing facilities to craft persons. Today, it has more than 1,000 members. The organization runs Craft Schools at Shantiniketan. It advises craft persons on design matters. Swayambhar NARI activities are supported by the Development Commissioner-Handicrafts, Ministry of Textiles, Govt of India.
The exhibition is showcasing different types of Handicrafts from Shantiniketan. The exhibition is an effort to revive Jamdani Tribal Weaving, Metallic Tissue Silk, Bamboo Jamdani, and Premium Handlooms. Silk, Tassar, Cotton Sarees, exclusive Kantha Saree, Grass Mats, Jewellery, Batik Bed Sheets, Leather, Sea Shell Products.
The products showcased are so unique, that they may be lifetime possessions for art and craft lovers and enthusiasts added Sudeshna Paul, a team member of Swayambhar Naari. And they are affordable and are not very costly.
When sustainability is the buzzword, how can sarees lag behind? she says.
The highlight among other products at the exhibition is the Bamboo Jamdani saree made out of Bamboo, a Designer Kettle, and painted Umbrellas. The Bamboo Jamdani sarees cost Rs 5500/-. And it takes 10 days. It is totally handwoven, the artisan said.
Our ancestors wore clothes made out of natural fibers. In between we shifted to synthetic fibers such as Nylon, microfiber, etc. But now again we are marching towards sustainable fashion. Sarees made using natural fibers extracted from plants such as jute, bamboo, banana, hemp and aloe vera are a new fad now, said Saikat Banerjee, one of the group members of the Swayambhar Naari.
Explaining new found craze for Bamboo Sarees, the artisan said that bamboo sarees absorb moisture quickly. Pure bamboo clothes take half the time to dry compared to cotton. The fiber, extracted from bamboo stems, is odourless and can be dyed. They do not shrink and the colour doesn't fade after wash. Bamboo clothing is also softer than cotton, with a texture more like silk, Sudeshna Paul added
Bamboo is not a wood but a grass. Therefore, unlike normal trees, it does not take decades to grow and mature. Within 4-5 years, it matures and is ready for harvest. The matured bamboo is extraordinarily durable and strong. After harvest, the bamboo is taken to the mills. In our case all Bamboo Jamdani sarees as hand ovens.
Bamboo fabric is used in medical and sanitary products because of its anti-bacterial characteristics. The fabric is light, soft, durable and non-allergic, compared to the other fabrics. The fabric is used in making different products like medical masks, doctor's coats (white coats) sanitary towels, bandages, pads, surgical wear etc., Ms Sudeshna Paul. Of course, these products are not available in the exhibition. What we have are Baboo Sarees with many other different Hand Oven Products and Crafts.
The age-old Tea kettles (a pot specialized to serve tea) are back in unique colours and hand-painted batik paintings using sustainable colours.
Artisans are doing live Painting of Bhatik and Patachitra on umbrellas, clothes and other items, which customers can experience the age-old craft.
The highlights of the exhibition include Khesh Sarees, made using a unique technique of weaving old sarees; a 500-year-old Kantha saree made of needlework reusing old clothes and material and turning them into something new and Designer Grass Mats made of Golden Grass. The other highlights include Handmade Jute and Stone Jewellery.
Kantha is a popular style of embroidery that comes from West Bengal and is a significant symbol that displays the skill and talent of the rural women in Bengal. It is perhaps the oldest form of Indian embroidery as it can be traced back to the first and second A.D. The thought behind this needlework was to reuse old clothes and materials and turn them into something new. This is what makes kantha embroidery only one of its kind. Kantha's work is approximately 500 years old.