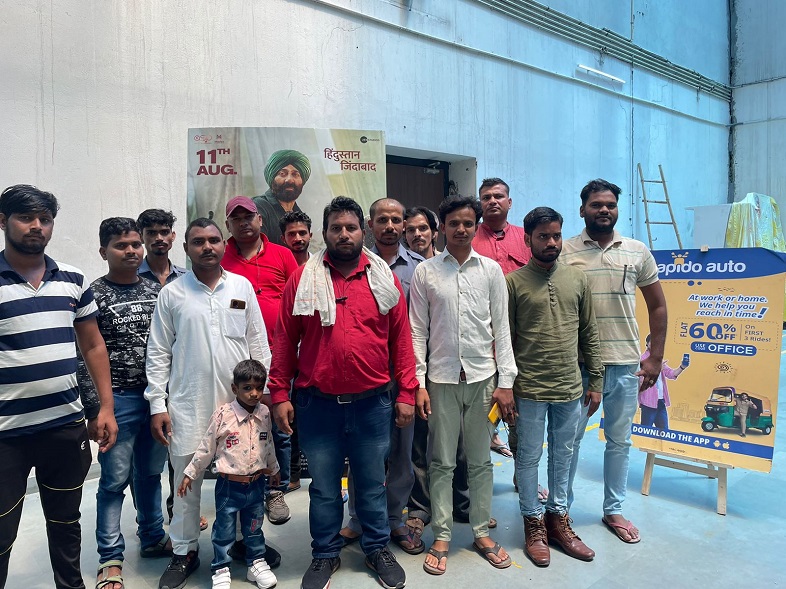 Rapido, India's leading auto and bike taxi aggregator platform, hosted an exclusive screening of the sensational hit movie "Gadar-2" as a heartfelt tribute to its 100+ Auto Captains, under its Auto Dost initiatives. The event was scheduled to take place on August 27, 2023, at the Cinepolis Cinemas in Noida. Over 100 Auto Captains experienced the special screening of Gadar-2.
This heart-warming initiative underscores Rapido's unwavering commitment to recognize and celebrate the relentless dedication and service of its Auto Captains who play a pivotal role in ensuring seamless transportation across Noida.
For years, auto drivers have been the backbone of the city's intricate transportation network, diligently connecting millions of commuters to their destinations day in and day out. The special screening of "Gadar-2" was not only a gesture of appreciation but also rejuvenated Rapido's esteemed Auto Captains, who continually strive to redefine the commuting experience.
Pavan Guntupalli, Co-Founder of Rapido, expressed his thoughts on this unique initiative, "Our Auto Captains are the backbone of our services, and we are dedicated to providing them with opportunities to unwind and recharge. 'Gadar' holds a special place in the hearts of audiences, and we want our captains to share this cinematic experience together."
"Gadar-2," featuring the iconic Sunny Deol, has already achieved the remarkable status of being the second-highest grossing film of 2023. Having been made with a production budget of Rs 60 Crore, Gadar-2's box office performance continues to impress, with earnings reaching an impressive Rs 411.10 crore within just 13 days of its release.
Under the 'Auto Dost' initiative, the organization endeavors at enhancing the well-being of its auto captains, Rapido announced significant upgrades including the installation of seat belts and curtains in autos operating within Delhi. These initiatives underscore Rapido's holistic approach to creating a safe, comfortable, and rewarding environment for its valued Auto Captains. "Gadar" emerged as one of the most monumental hits of 2001, and its sequel, "Gadar-2," successfully rekindled the same level of success 22 years later.