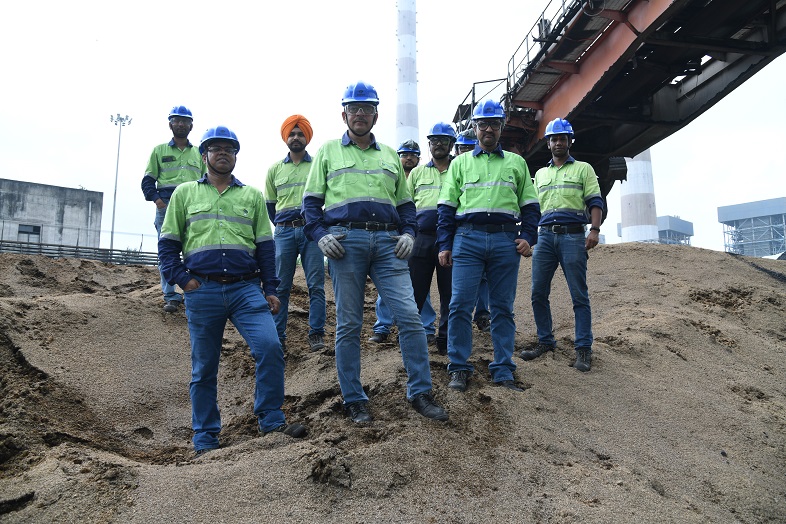 21st August 2023: On the occasion of Akshay Urja Diwas, Vedanta Aluminium reiterates its commitment to further diversifying its power portfolio with renewable energy (RE) and sustainable alternates such as biofuels. Towards fulfilling this aim, the company has entered into long-term power delivery agreements to source over 1335 MW of renewable energy. This will comprise a mix of both solar and wind energy, which will together contribute to powering Vedanta Aluminium's operations across Odisha and Chhattisgarh. It will also result in a reduction of greenhouse gas (GHG) emissions of ~3.2 million tonnes of CO2 per year, significantly contributing to Vedanta's decarbonization efforts.
Akshay Urja Diwas is a special initiative commenced in 2004 by the Ministry of New and Renewable Energy, Government of India. It encourages the wider adoption of renewable energy sources through technological innovation and decentralised power production. This encompasses several forms of renewable energy, comprising solar, wind, hydro and biofuels.
Vedanta Aluminium is also actively exploring the use of biofuels in its energy mix. The company has undertaken the usage of biomass pellets and briquettes produced from agriculture residue across its operations, including at BALCO (Chhattisgarh), India's iconic aluminium producer and a subsidiary of Vedanta Aluminium, Jharsuguda (Odisha) home to one of the world's largest aluminium smelters, and Lanjigarh (Odisha), location of the company's world-class alumina refinery. Over the past two years, since the company has successfully piloted biofuel use at its expansive power operations, Vedanta Aluminium has utilised 11.29 KT of biofuels, leading to reduction of 16.07 tonnes of CO2 emissions.
This effort contributes to diversifying its energy mix while also acting as a viable alternate fuel in case of conventional fuel shortages. Further, it provides an added impetus to boosting farmers' incomes by encouraging circular economy through the gainful utilisation of crop residue, which is otherwise disposed of through stubble burning.
Focused on achieving Net Zero by 2050, Vedanta Aluminium is working on a three-pronged approach towards decarbonizing its operations '
(i) increasing the quantum of renewable energy in its energy mix (ii) bolstering operational efficiencies to reduce energy consumption, and
(iii) rapidly transitioning to low carbon, cleaner fuels and technologies.
The company's shift towards renewable energy as an essential part of its power portfolio, has also enabled product innovation. Vedanta Aluminium is the first in India to offer low carbon, 'green' aluminium, branded Restora and Restora Ultra, for its global customer base, many of whom are focused on ensuring the sustainable provenance of their materials. Notably, the company was also India's largest industrial consumer of renewable energy in FY22, having procured nearly 3 billion units.
Vedanta Aluminium has achieved several milestones in its continuous journey to conserve energy and reduce its carbon footprint:
• Successfully conserved over 1.36 million GJ (gigajoules) of energy in FY23
• Commissioned India's largest fleet of lithium-ion battery-powered EV forklifts that will lead to a potential reduction in greenhouse gas emissions by approximately 1,600 tonnes of CO2 equivalent annually
• Reduced greenhouse gas (GHG) emissions intensity by 24% in FY 2022, from the 2012 baseline while increasing production by eight times over the same period
• Committed to decarbonizing 100% of its Light Motor Vehicle (LMV) fleet by 2030 and 75% of its mining fleet by 2035.
Vedanta Aluminium, a business of Vedanta Limited, is India's largest producer of aluminium, manufacturing more than half of India's aluminium i.e., 2.29 million tonnes in FY23. It is a leader in value-added aluminium products that find critical applications in core industries. Vedanta Aluminium ranks 2nd in the Dow Jones Sustainability Index (DJSI) 2022 world rankings for aluminium industry, a reflection of its sustainable development practices. With its world-class aluminium smelters, alumina refinery and power plants in India, the company fulfils its mission of spurring emerging applications of aluminium as the 'Metal of the Future' for a greener tomorrow. www.vedantaaluminium.com