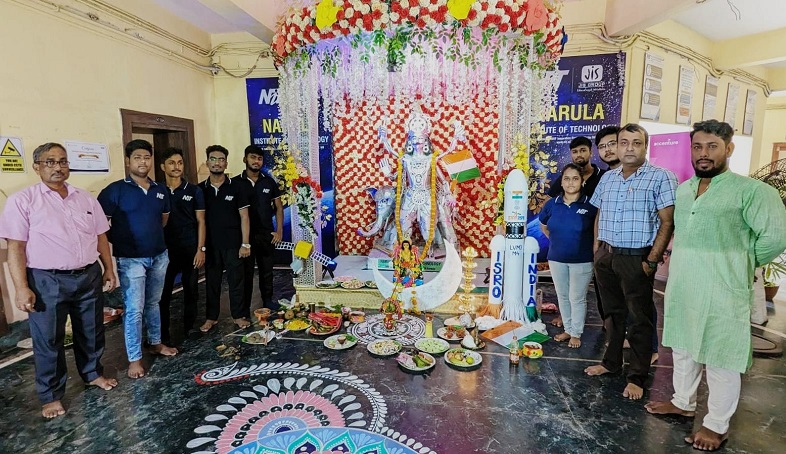 Kolkata, 18th September 2023: Keeping the recent National Engineer's Day in mind and on the auspicious occasion of Vishwakarma Puja, the talented and dedicated engineering students of Narula Institute of Technology came together to offer their prayers to the divine architect of the universe, Lord Vishwakarma, in an innovative and environmentally conscious way.
In a remarkable display of creativity and craftsmanship, the students have embarked on the creation of a magnificent metal idol of Lord Vishwakarma using recycled and worn-out materials. This unique project not only pays homage to the divine but also promotes sustainability by utilizing scrap items such as gears, bearings, hydraulic/coil springs, and more to construct the body parts of the idol.
The structure of the metal idol is a testament to the engineering prowess of the students, as it is meticulously crafted from steel pipes and TMT bars. The skeleton of the idol is expertly covered with steel sheets through a precise welding process, ensuring both structural integrity and artistic appeal. To give the idol a glorious finish, the outer metallic sheet has been beautifully painted by the skilled students of the Art & Designing Club.
The masterminds behind this awe-inspiring project include Adrisha Dutta, Mriganka Bera, and Sujan Samanta, all from the 3rd year Mechanical Engineering Department. They have led the way as the frontline architects, overseeing the intricate details of the idol's construction. Additionally, Sresth Gupta, a 3rd year CSE student, and Rahul Dutta, a BCA 2nd year student, have contributed their expertise as the prime designers of this exceptional idol.
Dr. Bikash Panja, the Head of the Mechanical Engineering Department, commended the dedication and hard work of the students. Under the able guidance of Prof. Ankesh Samanta, Assistant Professor in the Mechanical Engineering Department, and Mr. Prankrishna Kumar, Senior Technical Assistant, the students have tirelessly worked for approximately three weeks to bring this magnificent project to fruition.
This project not only celebrates the rich cultural heritage of Vishwakarma Puja but also showcases the creativity, innovation, and commitment of the budding engineers at Narula Institute of Technology. It stands as a shining example of how engineering and artistic skills can converge to create something truly extraordinary.
On this occasion, Sardar Taranjit Singh, Managing Director, JIS Group commented, "This remarkable project by the students of Narula Institute of Technology exemplifies the true spirit of engineering and innovation. Their dedication to creating an eco-friendly Lord Vishwakarma idol from recycled materials not only pays homage to tradition but also highlights their commitment to sustainability. It's a shining example of how engineering can blend seamlessly with artistry to inspire us all."