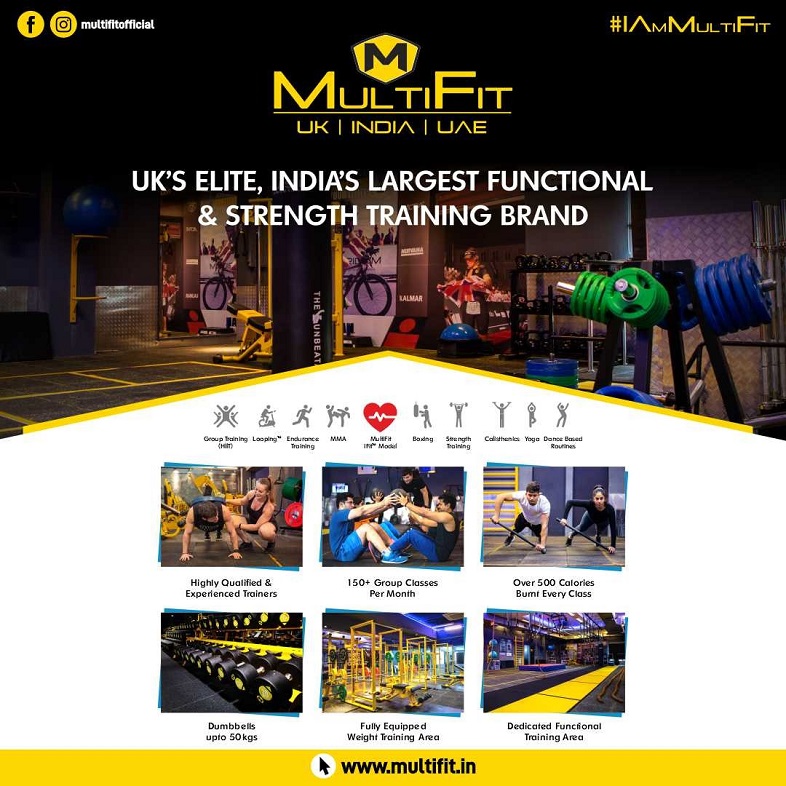 [Pune, 21st Sep'23] – MultiFit, a leading fitness and wellness brand, is thrilled to announce a series of invigorating masterclasses scheduled at different branches throughout the month of September. These workshops promise to offer participants an exceptional fitness experience with expert trainers guiding them towards their fitness goals.
Covering major fitness and mindfulness routines including Yoga, Badminton, MMA, Zumba, Bollybeats, Mindfulness, Functional training, Dhol Tasha and Lezim, the masterclasses are open for individuals from different walks of life.
Spread across branches in Pune, the schedules are designed by expert trainers with state-of-the-art facilities to help individuals achieve their health and fitness goals. With a commitment to holistic wellness, MultiFit is dedicated to transforming lives through fitness.
Masterclass on 16th September:
On 16th September, MultiFit branches have an exciting array of masterclasses lined up. The Kalyani Branch offers an all-day "Badminton" masterclass led by the MultiFit Kalyani team. At the Kharadi Branch, fitness enthusiasts can enjoy a "Badminton" masterclass from 8 AM to 9 AM, coached by the experts of MultiFit Kharadi. For those who love dancing, the Wadgaonsheri Branch presents a vibrant "Bollybeats" masterclass guided by Nieelam Kale, running from 8:30 AM to 9:30 AM.
Over at the Dhanori Branch, participants can engage in a dynamic "Kettlebell Masterclass" from 8 AM to 9 AM, led by the experienced trainer, Aditya More. The Nanded City Branch extends an invitation to members for a "Functional Training" masterclass, taking place from 8 AM to 9 AM and guided by Sneha Prakash. Additionally, the Baner Branch promises an adrenaline-pumping experience with an "MMA" masterclass led by expert trainer Saloni Avhad, scheduled from 9 AM to 10 AM. These masterclasses provide a diverse range of fitness opportunities to cater to various interests and preferences.
Masterclass on 23rd September:
On 23rd September, MultiFit branches are set to host an exciting line-up of masterclasses to energize and engage fitness enthusiasts. Both the Kalyani Branch and Kharadi Branch will feature invigorating "Dhol Tasha and Lezim" masterclasses from 8 AM to 9 AM, promising a unique cultural fitness experience. At the Wadgaonsheri Branch, fitness enthusiasts can participate in a dynamic "Kettlebell Masterclass" guided by Aditya More, scheduled from 8:30 AM to 9:30 AM.
The Dhanori Branch invites its members to a "Functional Training" masterclass from 8 AM to 9 AM, led by the expert guidance of Sneha Prakash. Meanwhile, the Nanded City Branch continues to inspire with another exhilarating "MMA" masterclass from 8 AM to 9 AM, led by Saloni Avhad. To wrap up the month on a high note, the Baner Branch offers a vibrant "Zumba" masterclass from 9 AM to 10 AM, led by the enthusiastic instructor, Dipti Pore. These diverse masterclasses provide participants with a fantastic opportunity to explore various fitness disciplines and stay motivated on their wellness journey.
Whether you are looking to enhance your mindfulness, dance to the rhythm, improve your sports skills, or engage in functional training, MultiFit's masterclasses have something for everyone.