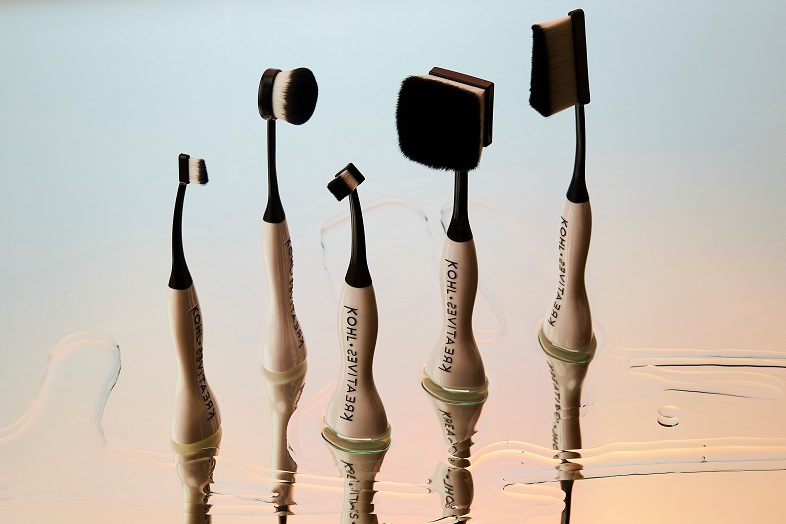 Mumbai, 4th September 2023: Beauty and lifestyle platform Kult App announced its partnership with Kohl Kreatives, the award winning cosmetics company known for its inclusive and innovative makeup tools. The strategic partnership aims to redefine personalized beauty shopping by expanding Kult App's diverse offerings and enhancing the overall user experience. The collaboration was marked by a celebratory launch event at Café Panama, Mumbai.
Kult App users will now enjoy exclusive access to a curated selection of Kohl Kreatives' top-rated makeup tools that are revolutionizing the beauty category. The offerings will include the Quickie Stickies range consisting of makeup stencils for eyes, face and body. The stickies help you create the most creative looks in seconds with three steps – shade, peel and reveal. Users can also explore a vast range of vegan and cruelty-free make-up brushes that are ergonomically designed with an application experience tailored for the user. Each brush has a unique spin, with some brushes capable of standing on their own and bending in any direction. They are also ingeniously designed in a way that they never roll away or waste any product.
Commenting on the partnership, Karishma Khokhar, Founder & CEO, Kult App said, "We very excited to join forces with Kohl Kreatives. The collaboration represents a synergy of our shared values and strengthens our proposition of providing our users with the best beauty solutions. We eagerly look forward to introducing Kohl Kreatives' inclusive and innovative makeup tools to cater to the varied needs of our diverse customer base."

As the brand's inaugural launch in the region the shared vision around inclusive values is a strong basis for this exclusive partnership. Trishna Daswaney, founder of Kohl Kreatives said, "We are thrilled to be launching in India with Kult and to share the concept of true inclusivity. Our products and brand welcome everyone genuinely, regardless of age, gender or ability. Whether you're a novice or an expert, there is something here for you, for me, and for everyone else."
Kohl Kreatives' exclusive collection will be available for purchase on the Kult App for both iOS and Android users. Beauty enthusiasts can explore the app's Skin Analysis Test and expert dermatologist reviews to discover the ideal Kohl Kreatives products personalized for their specific skin requirements.