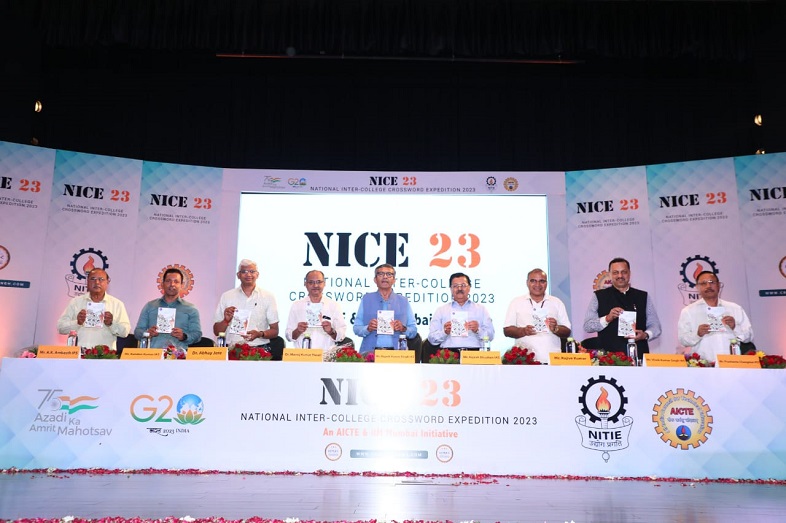 New Delhi, August 23, 2023 – The Grand Finale of the National Inter-College Crossword Expedition (NICE) 2023 kicked off on August 22nd at the AICTE Auditorium, on Nelson Mandela Marg in Vasant Kunj, New Delhi. The event witnessed the convergence of brilliant minds from across the country, showcasing their linguistic prowess and intellectual acumen.
The two-day event was graced by prominent personalities, including Mr. Rajesh Kr Singh, IAS, Secretary, DPIIT, Govt of India, Dr. Abhay Jere Vice Chairman, AICTE, Mr. Rajive Kumar, Member Secretary, AICTE, IIM Mumbai, Hon'ble Director Prof. Manoj Tiwari, Mr.Rajesh Bhushan IAS (Retd), President, Crossword Association Uttarakhand, Mr.A.K. Ambastha, IFS, Mr. Prashanta Changmai, IPS, who expressed their admiration for the participants and their dedication to enriching their knowledge through the art of crossword puzzles.
Mr. Rajesh Kr Singh, IAS, Secretary, Department for Promotion of Industry and Internal Trade (DPIIT), Government of India, attended the event as the chief guest. He spoke about the significance of fostering intellectual growth among the youth. "We used to set crossword puzzle for schools and college magazines, later we made it to the Swagat magazines of Air India. People used to solve the crosswords individually and now it has transformed into a competitive event spread across schools, colleges and more. Crosswords help exercise your brain, which is critical for brain health as you age."

Shri Vivek Kumar Singh (IAS), Development Commissioner in Bihar, said, "My passion is crosswords and the Extra C team was nice enough to get the idea fertilized which came from Ministry of Higher education. The real gardening was done by AICTE and IIM Mumbai, who have nurtured the event like their own children. It is because of them that the event has grown from rural areas to a large part of the nation."

Mr. Rajive Kumar, Member Secretary of AICTE, highlighted the positive impact of NICE on participants. "When I was 8-10 years old, I used to solve it but could not do it. Then I met Vivek Ji and said this is so boring, but the enthusiasm students have shown for this, it has created my interest for it. Crosswords help in developing in students the critical thinking and with this we are supporting NEP through this event. I would also like to congratulate the winners who will receive trophies tomorrow."

Mr. Rajesh Bhushan IAS (Retd), President of the Crossword Association Uttarakhand, delivered the Presidential Address, emphasizing the importance of intellectual engagements. "Crossword puzzles are more than just games; they are intellectual exercises that challenge and inspire. NICE provides a platform for students to demonstrate their erudition and connect with like-minded peers."

The event also witnessed words of appreciation from Shri Kundan Kumar (IAS), Resident Commissioner for the Government of Bihar in Delhi. "I am awestruck with all those who participate and win. My compliments to AICTE and all institutions who have helped in growing NICE into such a giant tree. I, as the Resident Commissioner for the Government of Bihar in Delhi, would like to do whatever I could do to further spread this message," said Shri Kundan Kumar (IAS).
The grand finale of the event will be held on August 23, 2023 (Wednesday); the names of the winners will be announced on the same day.
NICE 2023's Grand Finale proved to be a celebration of intellectual excellence, bringing together the academic community, government officials, and young talents from across the nation. The event was a resounding success, leaving a mark on participants and spectators alike.