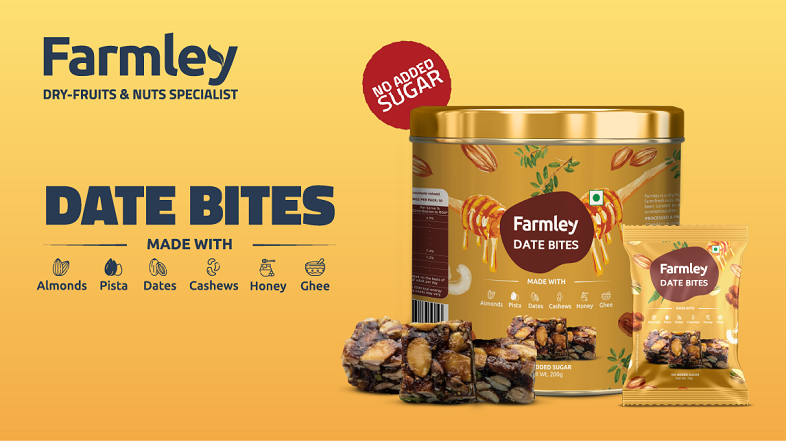 India, September 18, 2023: With an ongoing dedication to quality, innovation, and consumer well-being, dry fruits and nuts specialist brand Farmley has launched Sugar Free Date Bites, a perfect blend of health and taste. Rich in fiber and with no added sugar, the newly launched Date Bites are made with the goodness of 6 ingredients – Pista, Almonds, Dates, Cashews, Honey & Ghee.
With the festive season around the corner, Farmley's Sugar-Free Date Bites is a delightful addition to the brand's extensive portfolio of over 100+ dry fruits and nuts products. These Date Bites encapsulate the essence of festivals like Rakhi, offering a healthy yet delicious option for celebrations. As families come together to celebrate the bond between siblings, Farmley's Date Bites provide a guilt-free indulgence that aligns perfectly with the spirit of sharing and affection.
Talking about the new launch, Akash Sharma, Founder and CEO, Farmley said, "As a brand, Farmley has always strived to innovate and elevate the snacking experience for our valued customers. With the introduction of Farmley's Date Bites, we continue our journey to create products that reflect our passion for quality and well-being."
Farmley's products, including the newly launched Date Bites, are available across various online commerce platforms such as Amazon, Flipkart, Blinkit, Zepto, and Instamart. Farmley has created strong back-end connections with more than 5000 farmers and producers and set up a well organised supply chain network. This relationship not only ensures the highest calibre of ingredients but also bolsters local economies, showcasing Farmley's commitment to fostering meaningful connections. With an ever expanding range of products that fuse taste and nutrition seamlessly, Farmley continues to pave the way for a healthier and more flavorful future.