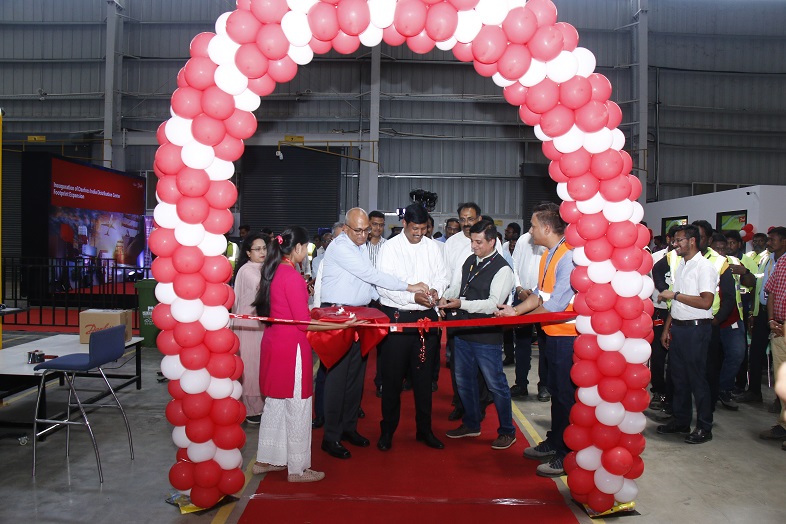 Danfoss, a global engineering major in climate and energy solutions takes yet another firm step fortifying its India Business with Distribution Center expansion coincides with the 90th year anniversary of the parent company. The state-of-the-art 43,000 sq. ft facility and 4000 pallet positions is equipped with ultra-modern infrastructure that will cater to the growing business operations of Danfoss India. The new facility is quite near the Danfoss Chennai factory in Oragadam SIPCOT industrial area. Ravichandran Purushothaman, President Danfoss India Region, inaugurated the new facility in the presence of Amit Dawar, VP- DHL Supply Chain, Danfoss India Management Team members- Madhur Sehgal, Muralidar VS, Uma Shankar Rajendran & Ranjith Raman, DHL Supply Chain office bearers, dignitaries, and employees.
Danfoss India foresees its revenue to grow 2X by 2025 and is currently having strong double digit at a compounded growth rate (CAGR) of 18-20%. The newly expanded distribution center will free up the space in Danfoss' Chennai Factory to pave further expansion of manufacturing operations. The center will aggregate Danfoss products from Asia, Europe, Latin America, and Denmark for core businesses like Power Electronics and drives and Climate Solutions. It will be the center for supplying products to not only customers in India but also nearby countries like Bangladesh, Nepal, Bhutan, and Sri Lanka.
Danfoss is globally celebrating its 90th anniversary this month and events have been planned across its subsidiaries in more than 120 countries. The events carry the message about Danfoss' solutions being the driving force of a growth-driven economy that addresses sustainability and technological gaps in urbanization, food security, electrification, digitalization, and climate change. The customers across the value chain increasingly see Danfoss as a preferred sustainability partner.
Speaking on the occasion, Ravichandran Purushothaman, President Danfoss India Region said, "We are proud to celebrate Danfoss' legacy of 90 years with one of the world's widest and most relevant portfolio of solutions that helps accelerate the decarbonization agenda for our customers. Given our ambitious growth plans, expanding Danfoss India's distribution center footprint will add unparalleled value to the growing operations of our customers and stakeholders."
Further Danfoss has introduced green fleet of less load containers in association with one of our logistics partners, GATI on this occasion. This initiative is in line with Danfoss climate commitment to offset emissions from upstream/ downstream supply chain by 2030 and our commitment to E-FAST INDIA initiative by NITI Aayog, WRI & WBCSD for accelerating ZET (Zero Emissions Transport) adoption in India.
The new vehicle was flagged off at Oragadam campus by Muralidar V S, Head of Global Services, Asia Pacific- Danfoss, V Rajesh Gowrinath as Sr VP – Customer Experience, Pradeep Kumar Jaganathan, Director- API Logistics Operations and Anju Mary Kuruvilla, Director- Industry Affairs, Corp. Com, CSR& Sustainability in presence of dignitaries, senior leadership, and employees from Danfoss and GATI.
Commenting on the association, Pirojshaw (Phil) Sarkari, CEO and MD, Gati Express and Supply Chain Pvt. Ltd. said, "We are continuously scaling up the deployment of alternative fuel vehicles, to strengthen environment sustainability in our operations and to support the government and our customers in reducing carbon footprint. We have been associated with Danfoss for more than two decades now and our mutual ambition presents us a great opportunity to accelerate sustainable mobility & green distribution service facilitation in the nation. In accordance with Danfoss' Climate commitments, we are pleased to work hand in hand to offset emissions from upstream/downstream supply chains and our first step is to convert all our pickup and delivery vehicles for Danfoss to alternate fuels.