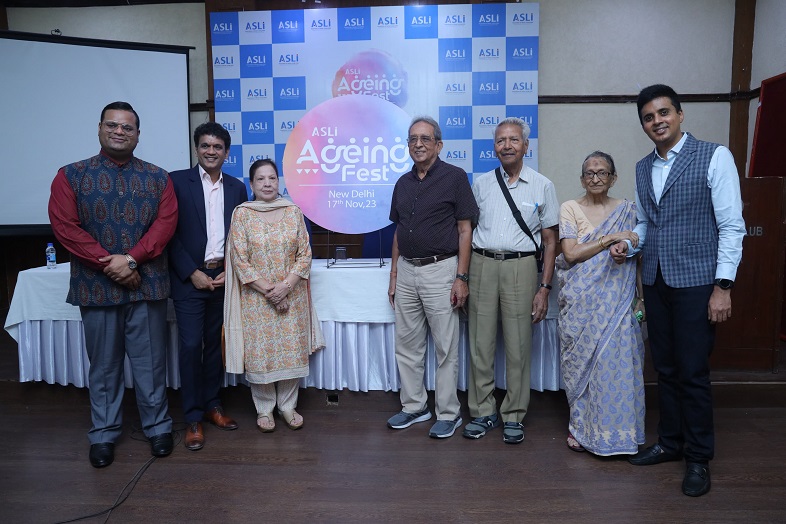 New Delhi, September 29th, 2023: The Association of Senior Living India (ASLI) has announced a landmark event that promises to revolutionize India's senior care industry, often referred to as the "Silver Economy." The 4th ASLI Ageing Fest, scheduled for November 17, 2023, at the prestigious Le Méridien Hotel in New Delhi, is poised to shed light on the immense growth potential within the senior care sector and the unprecedented investment opportunities it offers.
This landmark event was officially announced during a curtain-raiser event held coinciding with "The International Day of Older Persons" in the presence of Dr. Saurabh Garg, Secretary, Department of Social Justice & Empowerment
In his keynote address, Secretary Dr. Saurabh Garg of the Department of Social Justice highlighted the ministry's commitment to supporting startups venturing into senior care products and services. Dr. Garg emphasized that the ministry has allocated funds for this purpose and expressed a strong desire for more startups to participate in this endeavor. He believes that by encouraging innovation in senior care, the industry can be elevated to the next level, simultaneously addressing the existing supply gap.
The Association of Senior Living further elaborated on the immense potential within the sector, emphasizing that there are currently only a few players tapping into this opportunity. The purpose of the "Ageing Fest" initiative is to convene policy makers, investors, and end consumers under one umbrella, fostering collaboration and synergy to drive advancements in the senior care industry. This collective effort aims to not only meet the growing needs of senior citizens but also to unlock the sector's untapped potential for the benefit of all stakeholders involved.
PwC has come on board as the knowledge partner for the 4th ASLI Ageing Fest.
India's demographic landscape is undergoing a profound shift, with the elderly population aged 60 and above expected to surge from 8.6% in 2011 to a staggering 19.5% by 2050, according to the UN Population Division. What makes this transformation even more remarkable is that these seniors are living healthier, more active lives and have substantial spending power.
Recent projections suggest that the spending power of senior citizens in India will increase dramatically, skyrocketing from $100 billion in 2020 to a staggering $1 trillion by 2030. This demographic shift has captured the attention of investors and businesses eager to capitalize on the evolving needs of India's aging population.
As Mr. Adarsh Narahari, Chairman of ASLI and Managing Director, Primus Senior Living, aptly puts it, "Addressing the needs of our aging population is both a social requirement and a significant economic opportunity. We are bringing together key stake holders of the senior care space to help improve the quality of life of elders in India, the ageing fest 2023 serves as a timely response to India's unfolding demographic shift. By 2030, one in every five Indians will be 55 years or older, reflecting the scale of the market to address, added Mr Narahari.
The urban Generation S, representing approximately 45% of the urban population, primarily within the top three wealth quintiles, is a demographic segment with a strong affinity for lifestyle products. They contribute to expenditures exceeding an impressive INR 6,000 crores and wield substantial influence over an addressable grocery market valued at a remarkable INR 11,150 crores. Furthermore, there is a significant untapped opportunity in the senior-oriented medical products market, boasting an addressable market size of INR 2,031 crores, with online sales anticipated to grow as seniors increasingly embrace digital channels. The adoption of digital platforms by Generation S is expected to ignite substantial growth, projected to reach an impressive INR 39,488 crores.
In addition to their financial clout, seniors already claim a significant 35% share of the pharmacy market, valued at INR 43,685 crores. These statistics underscore the significant economic influence and market potential of India's increasingly affluent and digitally engaged senior population, making it an attractive segment for businesses and investors alike.
One of the key areas of growth within the senior care industry is senior living communities. The market for senior living in India, valued at approximately $10.15 billion as of 2022, is projected to maintain a robust compound annual growth rate (CAGR) of 10% over the next 6-8 years. The 4th ASLI Ageing Fest will emphasize the role played by different partners, including operators and infrastructure industry players, in developing the senior care ecosystem to cater to the diverse needs of seniors.
Mr. Ankur Gupta, Co-founder ASLI & Joint Managing Director, Ashiana Housing Limited, emphasizes, "As Indians live longer and healthier, there is a huge demand coming for lifestyle, travel, health, medical, and senior living. We as the private sector need to develop our strength to service this oncoming demand."

"India's senior living industry holds immense potential, but it's not without its challenges. Regulatory frameworks, societal perceptions, and infrastructure development are hurdles we must address to ensure a brighter future for our elders. As we navigate these challenges, ASLI is committed to advocating for a transformative approach that prioritizes the well-being and dignity of our seniors, making their golden years truly golden" said Rajit Mehta, Chairman-Elect of ASLI and MD & CEO, Antara Senior Care.
ASLI 4th Ageing Fest 2023 serves as a timely response to India's unfolding demographic shift. By 2030, one in every five Indians will be 55 years or older, reflecting societal progress and an improved quality of life. This event aims to empower seniors to embrace their journey and explore endless possibilities while advocating for crucial reforms and policies, including reverse mortgage policies, special zones for senior housing, and insurance coverage for senior care operators.
The 4th ASLI Ageing Fest – "Unlocking India's Senior Care Investment Potential" brings together government stakeholders, investors, and businesses to innovate and collaborate in the senior care sector. This event aims to reshape India's aging narrative and improve elderly quality of life. Featuring enlightening discussions, knowledge sessions, and presentations.