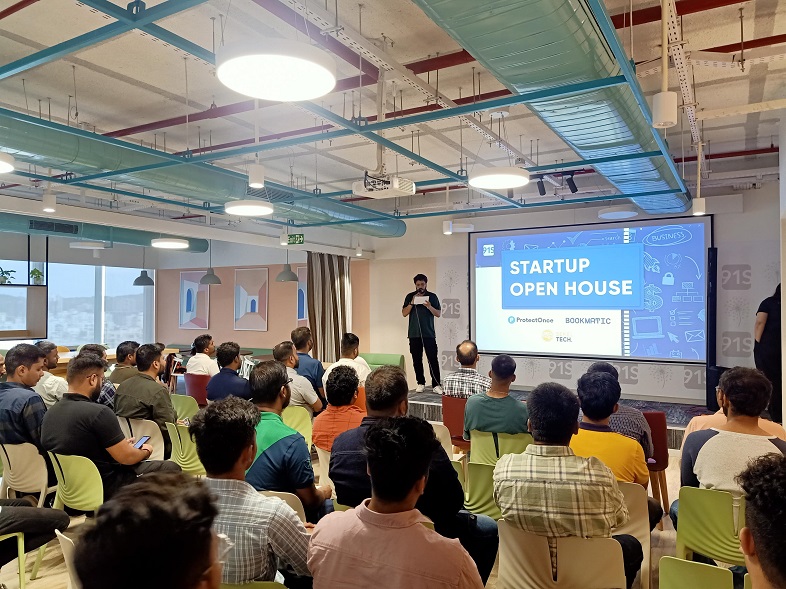 Pune: 91Springboard, one of the leading coworking space providers in India, marked the launch of their new Platinum hub in Baner, Pune, with an engaging start-up and networking event that brought together several entrepreneurs and industry experts.Spread over 32,000 square feet in the city's fastest-growing business district, 91Springboard's latest hub is a state-of-the-art offering that reflects the company's focused and ambitious growth plans. The hub can seat over 800 members, and provided the perfect setting for the Startup Open House.
Out of numerous applications, only three startups were shortlisted to showcase their products. The evening kicked off with the product demos from the founders who were chosen to showcase their products and services. Each demo was followed up with an engaging and dynamic Q&A session with the live audience. After all the demos were concluded, the floor was open for the attendees to network and make meaningful connections with people from varied sectors.
Bookmatic Pvt. Ltd, one of the featured startups, impressed the audience with their transformative accounting solution catering to small and microbusinesses. Sekel Tech, showcased their all-in-one software designed to empower multi-location businesses through centralised tools. ProtectOnce showcased an agentless API security solution which provides SaaS companies deep visibility into all APIs and helps to prevent complex attacks.
Chinmay Khandekar, Senior Community Manager, 91Springboard said, "The Startup Open House reflects our commitment to provide startups and entrepreneurs with more than just physical spaces. At 91Springboard, we are constantly looking for ways to bring the community together, and help people build meaningful connections. Coworking is not just about shared spaces, but about shared success stories. Our purpose at 91Springboard is to transform the way the world works by creating platforms and communities that promote collaboration, networking, and knowledge sharing."

Prem Sameer, Product Manager, Sekel Tech said, "As an entrepreneur, this open house was an invaluable opportunity and a great experience. I had so many meaningful conversations and got some amazing feedback on what we're building."

Ishan Talathi, Founder & CEO of Leapswitch Networks Pvt. Ltd., stated that "Stepping into 91Springboard's brand-new co-working space in Pune was nothing short of an experience. Spread across four magnificent floors with views that capture the essence of the city, it's not just a place to work but an epitome of inspiration. The recent event, spotlighting three pioneering startups, truly embodied the spirit of innovation this space is set to foster. Beyond the desks and meeting rooms, I felt the pulse of a community ready to redefine the future. If this is what the start feels like, I'm eager to see the journey ahead."