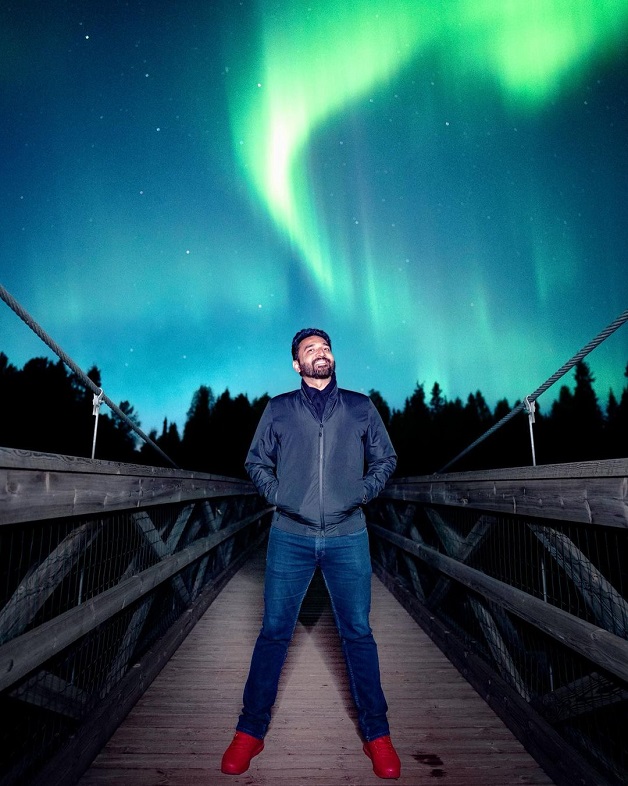 Actor Romanch Mehta, renowned for his captivating performances in popular shows like 'Kulfi Kumar Bajewala' and 'Kabhi Kabhie Ittefaq Sey,' temporarily stepped away from the hustle of his ongoing web series, 'Bhagin,' to embark on a European adventure. This journey wasn't just any trip; it was a heartfelt gift to himself on his birthday, September 15. Romanch fulfilled a long-cherished dream by celebrating his special day under the enchanting Northern Lights in Finland.
Reflecting on this extraordinary experience, Romanch shared, "On the big stage of life, we actors often get lost in the characters we portray. But amid those roles, I almost forgot to live my own story. I've longed for years to stand beneath the Northern Lights, a dream that quietly twinkled in the background of my life. This birthday wasn't just about getting older; it was about keeping a promise to myself. I gave myself the incredible gift of witnessing the mesmerising Northern Lights, and in that moment, I rediscovered a part of my soul."

He continued, "You see, we actors switch between countless roles on screen, but sometimes we need to remember to live our own lives too. Under the Northern Lights, I learned that dreams, even the ones that seem far away, are worth pursuing. I understood that life is not about the roles we play, but the moments we create. They're the most authentic roles we can ever play, ones that truly define who we are. As those emerald lights gracefully danced above me, I realized that the most powerful stories in life are the ones we create for ourselves."

"This journey taught me that life is meant to be celebrated, that dreams are meant to be chased, and that the world holds a treasure trove of wonders for those willing to explore. Birthdays are not just about counting the years; they're about making every year count; it's about celebrating every heartbeat, every tear, every laugh, and every dream that has brought me here," he concluded.
Romanch's birthday under the Northern Lights reminds us that the best moments in life aren't planned; they are the ones that touch our hearts. His trip across Europe and this magical birthday show us how important it is to be brave and pursue our dreams, even if we don't know what lies ahead.
On the work front, Romanch is starring in the web series 'Bhagin' alongside Aneri Vajani and Ansh Bagri. The series revolves around the lives of three brothers, with Romanch playing one of them. The cast also includes Ansh Bagri, Krip Suri, Zeeshan Khan, Mridula Oberoi, Iqbal Azad, Khushi Mishra, Dolphin Dubey, and more.