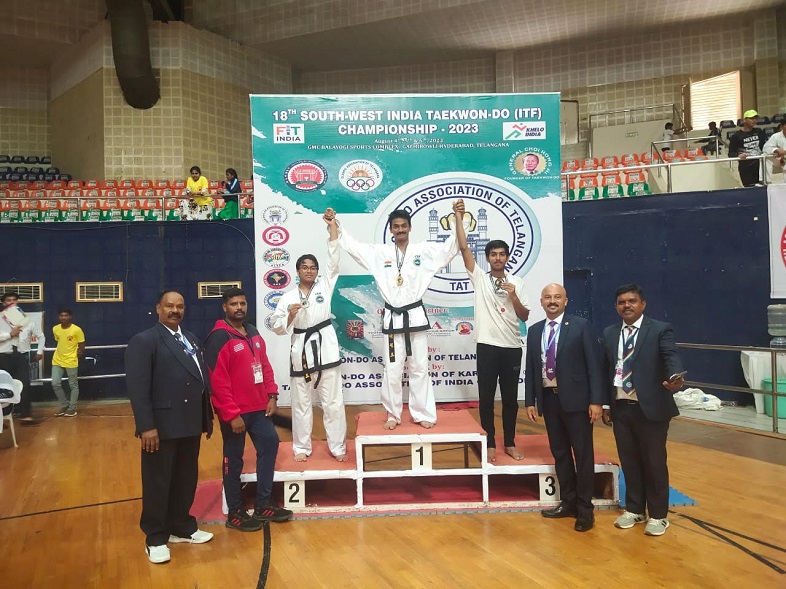 Bangalore; September 12, 2023: In an exceptional display of his martial arts skills, Yashas P. Raju, a grade 12 student at EuroSchool North Campus, has won five gold medals and one silver medal at the 18th South West Zonal Taekwondo Championship 2023 held at Hyderabad GMC Balayogi sports complex Gacchibowli.
The 16-year-old won gold medals in the South Asian Team Sparring, Self Defence, Individual Sparring, Team Patterns categories and silver in Individual Pattern category. Currently, the team is in Kazakhstan for the 22nd ITF Taekwondo World Championship
Talking about his victory, Yashas said, "It feels proud to have won so many medals. This win would not have been possible without the support of my parents and coach. Besides, my teachers at EuroSchool helped me chart out a plan wherein I could equally divide my time between studies and practice sessions. I am confident that I will ace several competitions with the mentorship and support from my school and coach." adding, "In every kick and every punch, I discovered the true meaning of courage and the boundless possibilities that await those who dare to dream."
In 2022, EuroSchool launched the ASPIRE Program which is a curation of sports & performing arts in collaboration with world class partners. Taekwondo is an integral part of the ASPIRE Program across EuroSchools all over the country.
Commenting on Yashas's achievement, Dr Vandana Gupta, Principal, EuroSchool, North Campus, said, "I congratulate Yashas and the entire contingent behind his success. Through dedication, discipline, and determination, Yashas has conquered the ring and emerged victorious, proving that hard work and a relentless spirit are the keys to success in competition. At EuroSchool, we have always encouraged students to discover their innate talents and interests and pursue their passions. I am confident that this win is just the beginning for Yashas. I thank his parents and our teachers for nurturing his love for Taekwondo and always encouraging him."