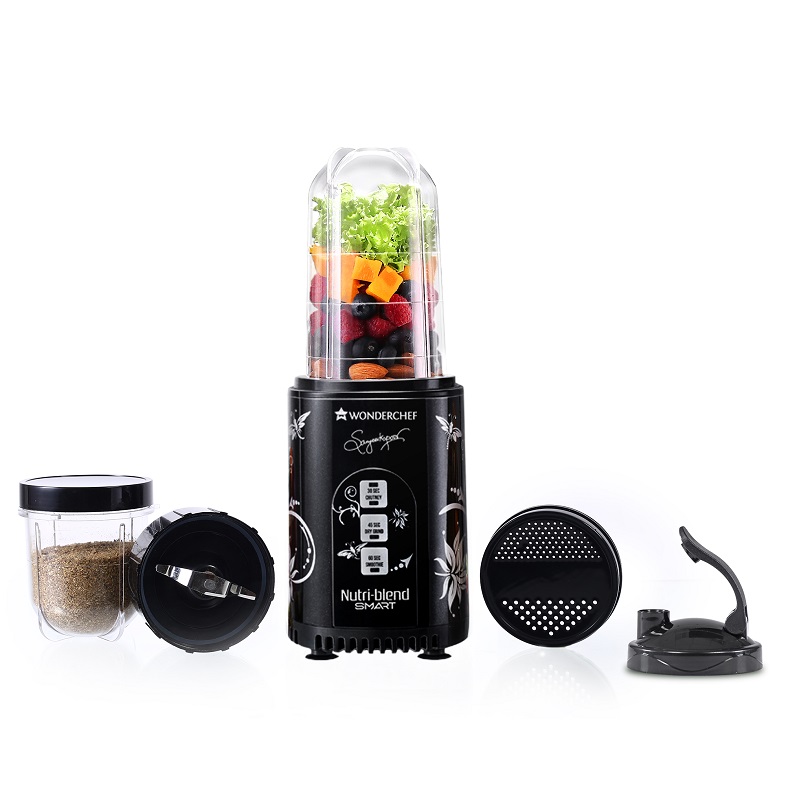 Wonderchef, a leader in cookware and kitchen appliances, has launched India's first fully automatic mixer grinder- the Wonderchef Nutriblend Smart. The latest masterpiece, a cutting-edge kitchen appliance, is set to revolutionise the way healthy living and cooking is approached, making it easier than ever to blend, chop and grind your way to delicious and nutritious meals.Packed with smart features and advanced technology, this versatile appliance offers a range of benefits that cater to both health-conscious individuals and passionate home cooks.
Nutriblend Smart is the first of its kind fusion of mixer and grinder that makes the entire operation automatic, requiring no human intervention beyond a single push on the button. Its advanced microcontroller helps it handle operations and stop it automatically, thus setting you completely free to look after other tasks in the kitchen.The Wonderchef Nutriblend Smart also comes with a distinctive first in industry Double Pulse technology, which allows for optimal blending by pausing twice for 2 seconds during operation to prevent ingredients from sticking to the sides. Its Smart Touch Panel offers precise control over blending speeds and modes, and houses a 3 pre-programmed menu for the ultimate convenience. Powered by a robust 1000W copper motor, that runs at the lightning speed of 22,000 RPM, it can blend even tough ingredientseffortlessly. The Nutriblend Smart's innovative Nutri-Jar features Bluetooth connectivity via the Wonderchef Nutriblend app, providing access to recipes, nutritional information and remote appliance control.
Mr. Ravi Saxena, CEO of Wonderchef,while expressing his excitement on the Nutriblend Smart launch, said, "At Wonderchef, we have always aimed to bring innovation and convenience to every kitchen. Wonderchef was the first one to launch products called 'Nutriblend'. Owing to its popularity and success in every benchmark, Nutriblend, today, has become a product segment in and of itself. The Nutriblend Smart is another product where we are setting the industry benchmarks, once again. It is a testament to our continued dedication to enhancing the cooking experience for our customers. With smart technology and user-friendly design, we believe Nutriblend Smart will become an indispensable asset for both health and culinary enthusiasts across India."
The Wonderchef Nutriblend Smart is now available for purchase on the Wonderchef website and through its Exclusive Brand Outlets (EBOs) and authorised retailers.