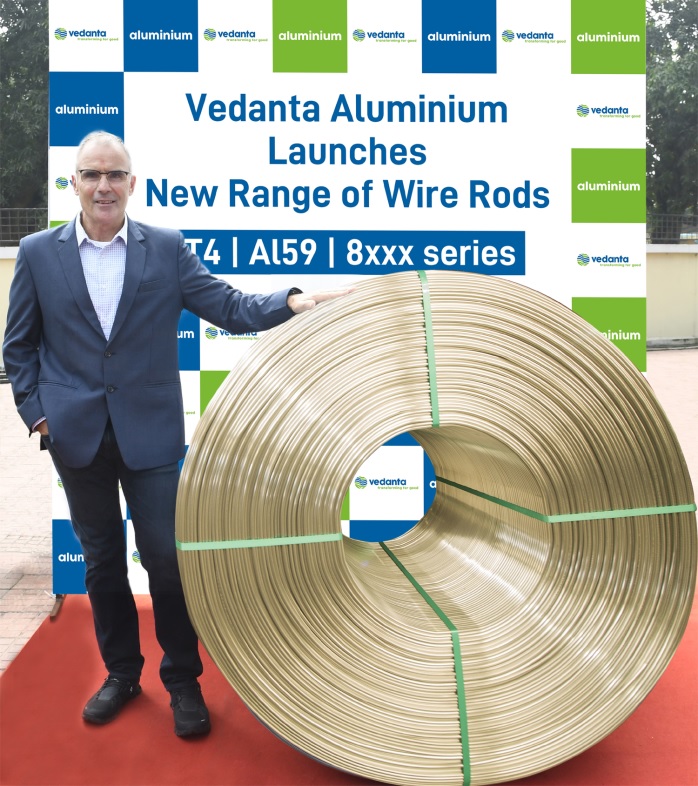 New Delhi; 7th October 2023: Vedanta Aluminium, the largest aluminium producer in India, has unveiled a new range of advanced wire rods, namely T4, AL59, and the 8xxx series, establishing a new paradigm of excellence in product offerings for the global power and transmission sector. The company launched the new products on the inaugural day of the ongoing Cable & Wire Fair 2023 (CWF2023) in New Delhi. Built to deliver exceptional performance, the new range is manufactured using state-of-the-art continuous casting technology. These products will also find key applications in automotive, building, infrastructure and electronics.
The T4 alloy rod offers customers the advantages of low-sag high strength, high drawability and enhanced durability. These properties make it perfect for usage within high-voltage transmission grids and also in manufacturing optical fibre composite overhead wires. In addition, the AL59 alloy rod offers a higher strength-to-weight ratio, superior power evacuation and a significantly higher current carrying capacity. These properties make it a must-have in the production of long-lasting cables and conductors. Further, the 8xxx series of wire rods offers exceptional anti-corrosion properties, making it of immense value to the construction, transportation and architectural sectors, which need a perfect balance of malleability and durability.
Additionally, Vedanta Aluminium also provides a diverse range of high-quality Electrical Conductor (EC)-grade wire rods in various sizes, including 7.6mm, 9.5mm, 12mm, and 15mm, as well as alloy wire rods and flip coils. They are produced using some of the world's best technologies, sourced from industry-leaders such as Continuus-Properzi (Italy) and Southwire (USA). The company has one of the largest selections of top-quality aluminium products globally, including Restora (India's first low-carbon, 'green' aluminium), billets, primary foundry alloy (PFA), slabs, ingots, rolled products, flip coils, and hot/liquid metal.
Commenting on the launch, Mr. John Slaven, CEO, Vedanta Aluminium said, "As a critical raw material for the electricals industry, aluminium plays a crucial role in enabling global access to reliable and clean energy, accelerating the transition to a sustainable future. At Vedanta Aluminium, we consistently elevate our offerings aligned with the evolving needs of the industry. Strengthening our ties further as reliable partners for the power and transmission industry, we are delighted to now offer the T4, AL59 and 8xxx series of Alloy Rods. Together, these products exemplify our dedication to collaborating with our customers to deliver customized, high-quality solutions for every need."
Vedanta Aluminium's diverse product portfolio is Bureau of Indian Standards (BIS)-certified, a testament to its high quality. The company's products have also been verified as environmentally sustainable by the globally recognized Environmental Product Declaration (EPD), after undergoing a rigorous Life Cycle Assessment (LCA), performing well on several parameters such as energy consumption, greenhouse gas emissions, water usage, and waste generation. Additionally, the Aluminium Stewardship Initiative (ASI), has also certified the company's plant at Jharsuguda, Odisha for showcasing high sustainability performance, a coveted indicator of sustainability worldwide.
Customer-centricity lies at the core of Vedanta Aluminium's product design and innovation strategy. In addition to product development, the company collaborates closely with its customers, fostering smooth downstream processing and sharing technical expertise with industry leaders. Earlier this year, the company launched the 12mm wire rod which continues to garner an enthusiastic response from customers. With its engineering prowess, deep R&D capabilities, vibrant innovation cell, Centre of Quality Excellence and Customer Technical Service (CTS) function, the company is well-resourced to meet the emerging demands of its global customer base, which spans nearly 50+ countries at present.
Vedanta Aluminium is India's largest producer of aluminium, manufacturing more than half of India's aluminium i.e., 2.29 million tonnes in FY23. It is a leader in value-added aluminium products that find critical applications in core industries. Vedanta Aluminium ranks 2nd in the Dow Jones Sustainability Index (DJSI) 2022 world rankings for aluminium industry, a reflection of its sustainable development practices. With its world-class aluminium smelters, alumina refinery and power plants in India, the company fulfils its mission of spurring emerging applications of aluminium as the 'Metal of the Future' for a greener tomorrow. www.vedantaaluminium.com.