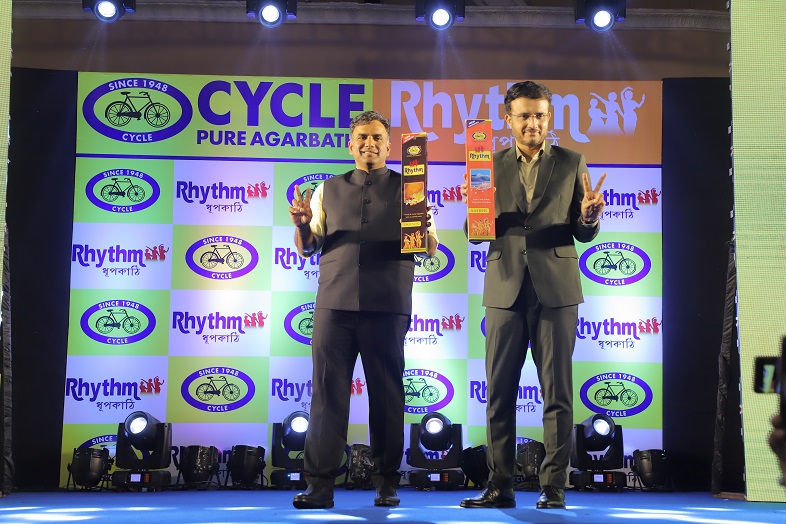 Kolkata, 25th of August, 2023: Cycle Pure Agarbathi, an illustrious name in the agarbathi manufacturing space and a cherished brand within the NR Group, today launched a series of fresh and improved fragrances under the product range, Rhythm. This launch celebrates the brand's enduring glory of 75 years of excellence, dedicated service and innovation. The event was graced by the presence of Sourav Ganguly, the former Indian Captain and Brand Ambassador of Cycle Pure Agarbathi, along with Arjun Ranga, the Managing Director, Cycle Pure Agarbathi.
On this occasion, Cycle Pure Agarbathi also launched a TVC featuring Sourav Ganguly, in the role of a 'Maharaja,'. The TVC recreates a scene from a classical movie, evoking a sense of nostalgia among Bengali audiences. Cycle Pure Dhoopkathi, Duto Kathi, Fatafati (Two sticks, fantastic) is a compelling and distinctive proposition, subtly suggesting that the fragrance emitted by just two sticks of Cycle Rhythm Agarbatti can work wonders. Its aroma spreads far and wide, captivating all who come across it. Ganguly's on-screen presence works its magic, bringing the entire concept to life.
The Rhythm brand pays tribute to the long-standing heritage and essence of Cycle Pure Agarbathi through its distinct fragrance notes. Beyond this homage, it also marks the beginning of an exciting new aromatic journey, promising fresh experiences. The unveiling of the four enhanced fragrances – Amber for captivating warmth, Sandalwood for timeless woody scent, Orients with oriental-floral mystique, and Saroja blending Sandal, Rose, and Jasmine – is a testimony to the brand's remarkable journey since its inception 75 years ago.
The introduction of these fresh fragrances has been timed perfectly with the upcoming festive season and the vibrant festivities of Durga Puja and Ganesh Chaturthi. This thoughtful launch showcases the brand's dedication to continual innovation and bringing happiness to worshippers. It equips the devout with an enhanced sense of spirituality and provides a unique avenue to worship with new and scents during this auspicious time.
Speaking at the launch, Arjun Ranga, Managing Director, Cycle Pure Agarbathi, said, "Throughout the 75 years of Cycle Pure's journey, we have embodied the values of prayer, hope, faith, and, above all, spirituality. As a brand dedicated to upholding these principles and igniting hope, we recognized an opportunity to transcend the dimensions of prayer and worship. This occasion marks not just the introduction of new fragrances, but also the deepening of our connection with the spiritual journey of our customers. We are committed to enhancing the moments of devotion and creating an aromatic manifestation of faith and reverence."

Speaking on the occasion, Sourav Ganguly, the former Indian Cricket Captain and Brand Ambassador of Cycle Pure Agarbathi says, " I extend my hearty wishes to Cycle Pure Agarbathi team for achieving an impressive 75 years and for instilling the essence of faith and hope among the younger generation. Cycle Pure has consistently led the way in innovation by delivering products of the highest quality to enhance the richness of the puja experience. I am excited to be associated with a brand that not only provides a beacon of hope but also a symbol of excellence and innovation. It brings me immense satisfaction to once again represent the brand in the state of West Bengal."
The four fragrances hold a special significance as they not only mark the brand's 75-year milestone but also offer fresh scents that deeply resonate with consumers. Crafted for user-friendly application and a seamless puja experience, these fragrances emit a divine and enduring aroma.
Cycle Pure Agarbathi has established itself as one of India's prominent agarbathi manufacturers, solidifying its position through continuous growth. The brand's dedication to innovation has led to a diverse array of products, showcasing its commitment to staying ahead in the agarbathi space. With a strong focus on research and innovation, Cycle Pure consistently creates new offerings and enhances the existing ones. This pursuit of quality drives the brand to actively explore marketing innovations, solidifying its status as a leader in the industry. As part of this launch, the brand has introduced a new ad campaign.