Arthan's Leadership Summit – 'Leaders for a Better World: Rethinking Social Sector Strategies'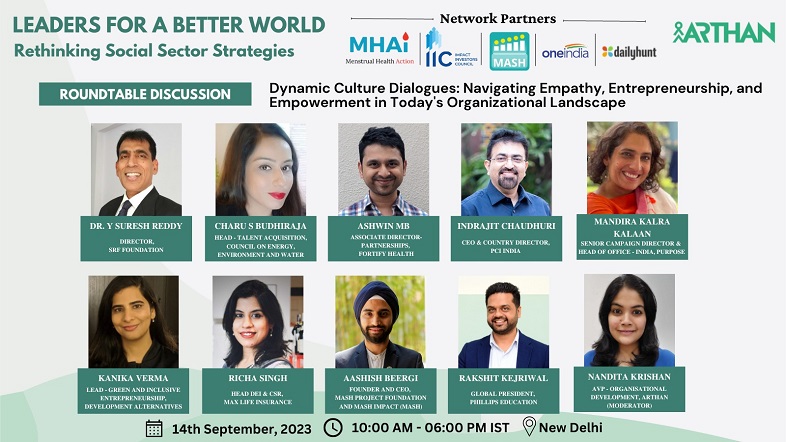 Delhi, September 9 2023: Arthan is gearing up to host a leadership summit titled 'Leaders for a Better World: Rethinking Social Sector Strategies' on 14th September 2023 in New Delhi. This summit is an absolute must-attend for all professionals and leaders dedicated to making a difference in India and South Asia's social impact landscape.
The summit will feature Deepak Dogra (Room to Read) as the keynote, laying the foundation for a day-long discourse filled with valuable insights and meaningful deliberations.
The summit will also feature several other speakers sharing their extensive experiences and expertise in the sector. These include Dr. Rukmini Banerji (Pratham Education Foundation), Shaveta Sharma-Kukreja (Central Square Foundation), Dr. Shagun Sabarwal (Co-Impact), Ratna Viswanathan (Reach to Teach), Dr. Y Suresh Reddy (SRF Foundation), Charu Budhiraja (Council on Energy, Environment and Water), Ashwin Mb (Fortify Health), Indrajit Chaudhuri (PCI India), Mandira Kalra Kalaan (Purpose), Kanika Verma (Development Alternatives), Richa Singh (Max Life Insurance), Aashish Beergi [MASH Project Foundation and MASH Impact (MASH)], Rakshit Kejriwal (Phillips Education), Nandita Krishnan – Moderator (Arthan) and Vartika Gupta – Moderator (Arthan). The summit's overarching goal is to cultivate a vibrant community of influential leaders within the social impact sectors across India and South Asia. This community aims to reimagine conventional strategies in social change, with a particular emphasis on advancing human resource development. The primary objective of this community would be to establish a space for fostering meaningful connections, co-creating innovative approaches to hiring and organizational growth, and sharing essential best practices in succession planning. This summit envisions harnessing its participant's collective wisdom and creativity to drive positive change within the social impact ecosystem.
Inaugural Panel – Strengthening Human Capital: Charting a Succession Roadmap for the Future of Social Impact Organisations
The inaugural panel will seek to explore the critical role of human capital in shaping the future of social impact organizations through the development of effective succession roadmaps. This conversation intends to understand the importance of succession planning, the nature of such programs, the team responsible for executing them, possible challenges that might emerge, and the essential components of a successful program.
Roundtable Discussion – Dynamic Culture Dialogues: Navigating Empathy, Entrepreneurship and Empowerment in Today's Organizational Landscape.
The summit will feature a roundtable discussion that will aim to explore the importance of human capital, cultural evolution, and adaptive leadership in facilitating effective organizational change while enhancing employee engagement. It will also seek to understand the strategies for reshaping corporate strategies and structures to align with strategic goals, emphasizing the role of energy, empathy, and an entrepreneurial mindset through collaborative exchanges among experts.
In addition to the summit sessions, attendees will get the opportunity to participate in the 'Coffee, Chat and Collaboration' session. This serves as an ideal occasion for participants to network and cultivate connections with fellow social impact professionals, opening doors to potential groundbreaking collaborations. This is an opportunity for professionals to establish connections, share knowledge, and foster potential partnerships. Organizations can also leverage it for strategic alliances, talent acquisition, and knowledge enhancement.