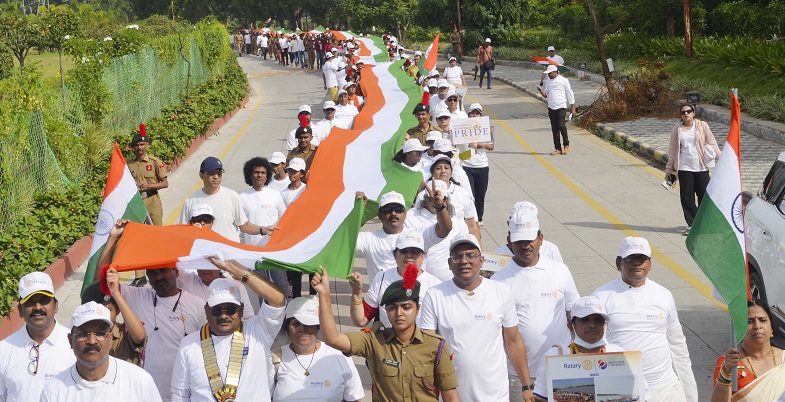 Hyderabad, August 14th, 2023: Rotarians from across Telangana, Twin Cities of Hyderabad and Secunderabad, from Guntur and Prakasam, in Andhra Pradesh joined in unique 'Tri Colour Walk' on the eve of the 77th Indian Independence Day, today at the Thrill City, Necklace Road. Chief Guest Rotarian Dr Shankar Reddy Busireddy, District Governor 2023-24, RI District 3150; flagged off the human chain rally with 100 meters Indian flag, amidst celebratory enthusiasm and patriotic fervor displayed by the participants in an electric atmosphere, during the rally. The rally signified Rotary International's initiatives providing continuous succor to the needy sections of the society and creating Hope in the World.
Rotary International District 3150, comprising of the Rotary Club Secunderabad West; Rotary Club Jubilee Hills; Rotary Club Hyd Legend; Rotary Club Megacity; Rotary Club Hyderabad Pride; Rotary Club Sanikpuri; Rotary Club Himayathnagar; Rotary Club Miyapur; Rotary Club Hyderabad Crusaders and others; organized the walk.
It's a moment filled with immense sense of pride and joy as the nation celebrates the remarkable accomplishments over the past 76 years. The Tri Colour Walk hosted by Rotary International offered the current generation a valuable opportunity to reflect on the sacrifices, dedication, and the unwavering determination of our forefathers, who fought tirelessly for the independence. As Rotarians let us continue to do more and more projects to benefit the community and create hope in the world, says Dr Shankar Reddy Busireddy.
Rotary International District 3150, is involved in several charitable initiatives including construction of more than 100 schools and 100 plus toilets in the recent times. Set up four Dialasys Centers, one Blood Bank, one Mobile Eye Hospital, one Palliative Care Unit Sparsh, three Artificial Limb Centers, one Color Doppler Unit MNJ Cancer hospital, one Cataract Surgery Unit at Pushpagiri hospital, one Pediatric Heart Surgery Unit at NIMS Hyderabad, one Skin Bank at Osmania Hospital, among innumerable other projects in the recent past alone.