~The Chennai city chapter featured eminent personalities such as Palanivel Thiaga Rajan, Tamil Nadu's Minister for IT and Digital Services, and Air Marshal Suraj Kumar Jha, Air Officer in Charge Personnel, Air Headquarters, Indian Air Force, amongst many others, as well as saw the felicitation of several women champions who broken barriers to inspire change ~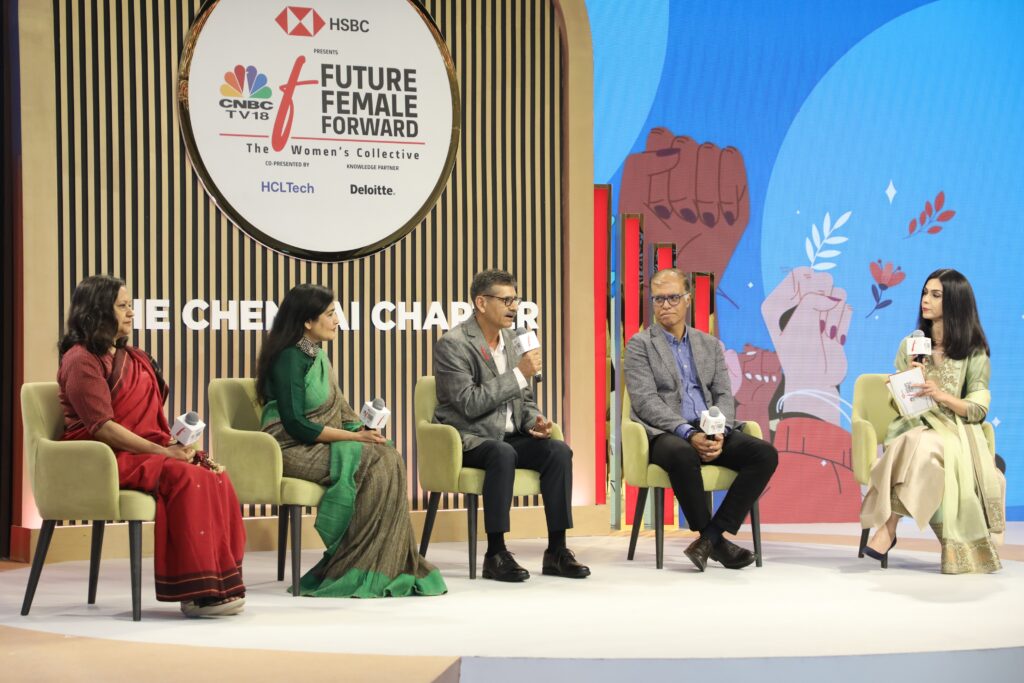 28th July 2023: CNBC-TV18, India's leading English business news channel, concluded the first season of its mega initiative "Future. Female. Forward – The Women's Collective", with its Chennai city chapter on Monday, July 24 2023. The initiative focuses on promoting gender equality in the workplace and highlights its crucial impact on the economy and the nation's progress. The event saw distinguished personalities from the fields of business, entrepreneurship, policy, and politics in attendance.­­­­­­­­­­­­­­­­­­­­­­­­­­­­­­­­­­­­­­­­­­­­­­­­­­­­­­­­­­­­­­­­­­­­­­­­­­­­­­­­­­­­­­­­­­­­­­­­­­­­­­­­­­­­­­­­­­­­­­­­­­­­­­­­­­­­­­­­­­­­­­­­­­­­­­­­­­­­­­­­­­­­­­­­­­­­­­­­­­­­­­­­­­­­­­­­­­­­­­­­­­­­­­­­­­­­­­­­­­­­­­­­­­­­­­­­­­­­­­­­­­­­­­­­­­­­­­­­­­­­­­­­­­­­­­­­­­­­­­­­­­­­­­­­­­­­­­­­­­­­­­­­­­­­­­­­­­­­­­­­­­­­­­­­­­­­­­­­
Tamil Nadu as a state has been leading the India Growth Story in the space of manufacturing. Traditionally, a male dominated industry, for years manufacturing has been a suite only for men. However, after the economic disruption of COVID-19 and with the growing demand of workforce in the sector, there has been a phenomenal rise in the percentage of women workforce in manufacturing. Tamil Nadu is by far the number one state when it comes to inclusion of women in the workspace, especially in this sector.
The evening kickstarted with a welcome address by Shereen Bhan, Managing Editor, CNBC-TV18 "Our purpose and mission remain consistent in creating a more gender-balanced society and an economy that fosters an environment where every woman feels seen, safe and valued. We here at Chennai are especially proud of the fact that Tamil Nadu is by far the number one state when it comes to the inclusion of women in the workspace, and Chennai has the highest number of working women in India and hence we are glad to be hosting this chapter of Future. Female. Forward – The Women's Collective here in Chennai."
The evening was graced with the presence of Shri. Palanivel Thiaga Rajan, Minister for IT and Digital Services, Tamil Nadu, where he shared his thoughts, "Tamil Nadu boasts the highest proportion of women entrepreneurs, surpassing other regions. This increase can be attributed to both the conducive ecosystem and the government's deliberate efforts, including initiatives like the Tamil Nadu women's development cooperation and the Women's Entrepreneurship and Women Startup Commission. These measures are strategically designed to propel women entrepreneurs toward success and provide them with the necessary support to thrive in their ventures."
The evening also honoured the women of Tamil Nadu who have time and again proved their mettle with a special felicitation for their respective fields to Purnima Jalihal, Head of the energy and freshwater group at the National Institute of Ocean Technology; Aditi Prasad, Co-Founder at MiniRoo.in; Swati Daradee, Chetak R&D, Bajai Auto; Rajashri Sai, Founder of Impactree Data Technologies and Zuppa Geonavigation; Preeti Aghalayam, Appointed Director, lIT Zanzibar; Priya Krishnamoorthy, Founder & CEO, 200 Million Artisans; Aneesha Subramani, Associate, Motor Shop – Ola; Group Captain Shakti Sharma, Indian Air Force; Wing Commander Deepika Mishra, Indian Air Force; Squadron Leader Sindhu Vijay Reddy, Indian Air Force and Self Help Group Chennai (FICCI FLO).
The evening moved ahead with an enriching conversation moderated by CNBC-TV18's Parikshit Luthra with Air Marshal Suraj Kumar Jha; Air Officer in Charge Personnel, Air Headquarters, Indian Air Force on the topic Pride, Glory and Female – Firsts in the Indian Air Force where he shared his thoughts, "The journey began in 1991 and by 1993 when the first batch of women officers entered the Indian Air Force, but the real change began in 2010 when women were granted permanent commissions for the first time. The first batch of women fighter pilots entered in 2015, and since then woman in the fighter stream has been declared permanent, girls have begun to join Sainik schools, and even the NDA is open to girls. I witnessed young, intelligent female cadets marching shoulder to shoulder with the male cadets in the NDA. Today, between 30,000 and 50,000 girls apply per batch to join the Indian Air Force, but we can only accept a small number of them due to limited space, and there are currently about 2000 women in the Air Force, with numbers expected to grow over time."
The first discussion of the city chapter featured Sumita Ghose, Founder, Rangsutra; Nina Reddy, Joint Managing Director, Hotel Savera; Hemant Malik, Divisional Chief Executive, Foods Business Division, ITC Limited; and Rajeev Chaba, CEO Emeritus, MG Motor India as panellists. Moderated by Shereen Bhan, the panellists share their views on the topic 'Women leading the Manufacturing growth story.'
After the first panel discussion, Dr. Valli Arunachalam; Nuclear Scientist, Semi-conductor Technology Consultant, and Advocate for Women Empowerment had a brief conversation with the audience on the whole process of understanding Semi-Conductor Chips on the topic Straight from the Heart – Special Talk on the Great Chip Crunch.
The evening moved ahead with another riveting discussion on the topic Minding the Gender Parity Gap: The Leaders Take moderated by Parikshit Luthra where the featured panellists were Ravi Kyran, CHRO, Bajaj Auto; Raja Radhakrishnan, President & Head HR, Ashok Leyland; Nitin Razdan, Partner & Human Capital Consulting Leader, Deloitte South Asia; Archana Chadha, Head of HR, HSBC India; Subbaraman Balasubramanyan, Senior Vice President, HCLTech and Balachandar N, SVP & Chief People Officer, Ola Group.
Talking about policies for women's professional growth at HSBC, Archana Chadha, Head of HR, HSBC Asia Pacific, said, "At HSBC, we value authenticity and encourage everyone to bring their true selves to work, regardless of gender. Our policies are designed to foster self-development and support women's career growth, including training programs for those re-entering the workforce. The Ascent program has proven successful, with 80% of women experiencing promotions or job expansion. From hiring to training and throughout each life stage, we strive to provide a conducive environment for excellence. Additionally, we have robust maternity policies in place to support our employees during this important phase of their lives."
Taking the conversation ahead, Subbaraman Balasubramanyan, Senior Vice President, HCLTech, shared some insights about the unique programs they have, "We offer various programs through different channels to support our employees' growth and career aspirations. One such program is Ascend, where women employees can aim for their desired roles. Stepping Stones is another program that enables them to select their career path and assignments. Additionally, we have Mentor Me, a platform that allows women to choose mentors, contributing to our commitment to a diverse workforce for tackling complex challenges from multiple perspectives. These three elements have proven to be invaluable in our organization."
Nitin Razdan, Partner and Human Capital Consulting Leader, Deloitte South Asia, shared his opinion on how various company acts have seen growth for women, "From a regulatory standpoint, companies have made significant strides. The Companies Act of 2013, for instance, required female representation on boards, resulting in over 70% of major Indian companies complying today. Acts like the Paternity Act of 2017 have also played a vital role, doubling maternity leave and mandating childcare facilities at workplaces."
The event moved ahead with another panel discussion on The Startup Women Pioneers moderated by CNBC-TV18's Shruti Mishra featuring Archana Stalin, Founder & Growth Champion, MyHarvestFarms; Rati Shetty, Founder & Chief Product Officer, BankBazaar; Kamhalini Ithal, President, White Lotus & Co.; Vijayalakshmi Venkatraman, Founder, Gaayak; Ashwini Asokan, Founder & CEO, Mad Street Den.
The event culminated in the final discussion on Straight from the Heart – Women Charting Success in Sports moderated by CNBC-TV18's Jude Sannith featuring Aruna Anand, Manager of Indian Chess Grandmaster Vishwanathan Anand & Chess Enthusiast and Aarthie Ramaswamy, Women Grandmaster & Former World U18 girls chess champion where they discussed the growth of women's presence in various sports. The event later concluded with A Tribute to the Women of Tamil Nadu a beautiful musical performance by singer Nithyashree Venkataramanan.
CNBC-TV18's Future. Female. Forward – The Women's Collective is proudly presented by HSBC India. It is co-presented by HCLTech, while Deloitte India supports the initiative as Knowledge Partner, with Industry Partner, FICCI and Associate Partner, Reliance Industries.