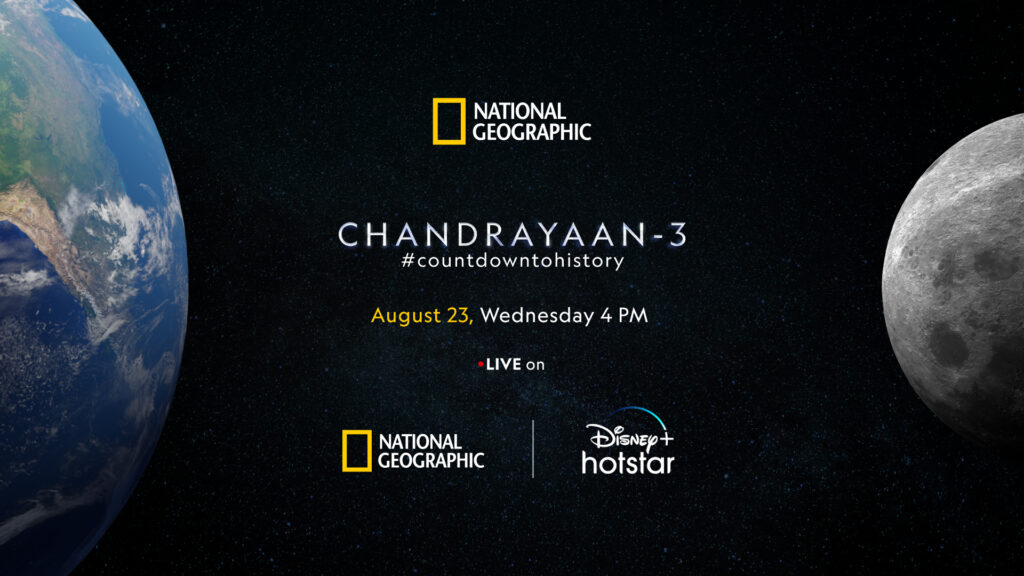 August 22, 2023, New Delhi: Harnessing the power of storytelling and exploration, National Geographic, with its rich legacy of over 130 years, has been on a mission to go deeper, further, and push the boundaries of how we see the world. Building upon the national pride witnessed during Chandrayaan 2's mission in 2019, National Geographic India is all set to capture the nation's attention once again for Chandrayaan 3's planned landing. The live simulcast of Chandrayaan – 3 #countdowntohistory across National Geographic Channel and Disney+ Hotstar will begin at 4 PM on August 23, 2023, i.e., hours before Vikram's descent on the lunar surface, which is expected to begin around 5:45 PM IST. Hosted by Gaurav Kapoor and leading space experts, the show will take viewers on a captivating journey through time and space, capturing the countdown to the final moments as India creates history.
While the live show will provide exclusive insights from eminent personalities such as astronauts Sunita Williams, and Rakesh Sharma, and S. Somanath, Chairman of ISRO about the mission's significance for India and the future of space exploration. Joining live, Srijan Pal Singh, CEO and Co-Founder of Dr. A.P.J. Abdul Kalam Centre; Chris Hadfield, Former Commander Of The International Space Station and Ann Druyan, Creative Director of NASA's Voyager Interstellar Message and Emmy-winning Writer, will count down to the final moments as India creates history while shedding light on the journey to the moon. With futuristic AR VR graphics and interesting facts and trivia, the show will decode the basics of the rocket science and tech behind this mission. It will also feature informative short films on Vikram Sarabhai and his discovery of Thumba, Satish Dhawan as a visionary leader of ISRO, and an inspiring AV on Dr. Kalam.
Chandrayaan 2's live telecast on National Geographic in 2019 drew millions to the landmark event, bringing the nation together with the hope of witnessing India become the 4th country in the world to carry out a successful landing on the moon. Now, 15 years after the first Chandrayaan mission, India is again gearing up for a gripping landing on the south pole of the lunar surface with Chandrayaan 3. The live simulcast across National Geographic Channel and Disney + Hotstar will reach a larger, attentive audience cheering for India to make a successful landing. Additionally, National Geographic has released a special anthem to wish Chandrayaan 3 a successful soft landing and salute the ingenious minds at ISRO.
"At National Geographic, we pride ourselves on presenting authentic and trustworthy narratives, which establishes us as a pioneer in the realm of science and exploration. With our rich legacy of spectacular storytelling, we are committed to bringing best-in-class immersive experiences that will inspire our viewers and foster a greater understanding and appreciation for the world around them. With futuristic 3D graphics, uncharted access to the voices of experts from India and abroad, and short informative films, we want to unite Indians across the globe and take them on a memorable journey to #countdowntohistory together," said Gaurav Banerjee, Head Content, Disney+ Hotstar & HSM Entertainment Network, Disney Star.

"In the last 40 years, despite limited resources, ISRO has had a spectacular journey, the programs we have conducted over the years have surprised the world. Space explorations do have their ups and downs, but we've remained focused in our approach, and knowing the way ISRO functions I can proudly say that Chandrayaan 3 will have a safe landing. I look forward to a successful Moon landing on 23rd August" said Rakesh Sharma, First Indian in Space.
'Chandrayaan – 3 #countdowntohistory' will be telecast live on August 23, 2023, at 4 PM on National Geographic Channel and Disney+ Hotstar in India.