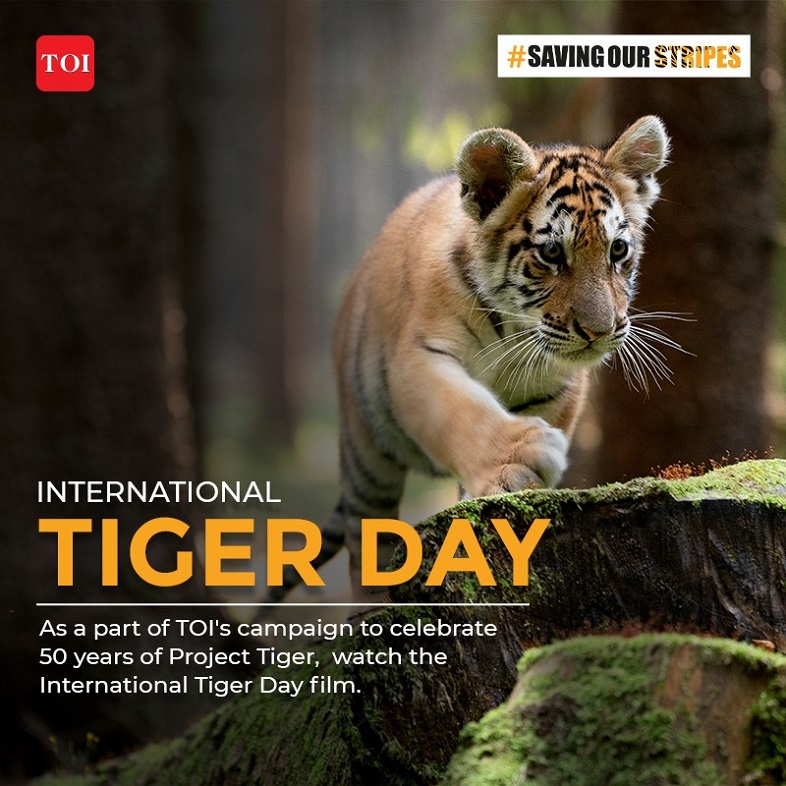 New Delhi, August 3, 2023 — The Times of India's "Saving Our Stripes" campaign released a powerful and compelling Tiger film this week, aimed at raising awareness about the critical importance of tiger conservation and the urgent need to protect these magnificent creatures from extinction. The ongoing campaign commemorates the 50th anniversary of Project Tiger, a centrally-sponsored scheme that aims to ensure the survival and maintenance of the tiger population in specially constituted tiger reserves throughout India.
The Tiger film serves as a poignant reminder of the critical role tigers play in maintaining ecological balance and biodiversity. The film showcases the awe-inspiring beauty of tigers in their natural habitats while shedding light on the numerous challenges they face to survive. Click here (link to the film) to watch the heartwarming film.
"Through the 'Saving Our Stripes' campaign, we hope to spread awareness of the critical role Tigers play in the conservation of our national treasures, our forests and biodiversity, and help maintain an increasingly fragile ecological balance. Project Tiger in India has been globally acclaimed as a case study on conservation, given our population and consequent pressure on natural resources, and many countries are now learning from it. We hope that the power of storytelling, as demonstrated by TOI's Tiger film, will make the subject matter more relatable and drive greater consciousness on why we need to protect Tigers and our forests," said Kaustuv Chatterjee, Director, TOI.
The "Saving Our Stripes" campaign has featured a variety of content across TOI's print and digital platforms, including quirky contests, thought-provoking editorials, and a special Tiger Anthem curated by celebrated artists including Nalla Muthu (a national award-winning wildlife cinematographer) and Shantanu Moitra (composer and musician for Bollywood films like 3 Idiots and Parineeta). The winners of the contest have also been announced (link to the winners list).
When launched, Project Tiger covered nine reserves across 18,278 sq. km. Currently, there are 53 tiger reserves spanning 75,000 sq. km. Today, with 3,167 tigers, 75 percent of the global wild tiger population is in India.
The Honorable Prime Minister of India, Shri Narendra Modi, also tweeted the Tiger Anthem from his official Twitter handle, urging his followers to join the campaign to save tigers.