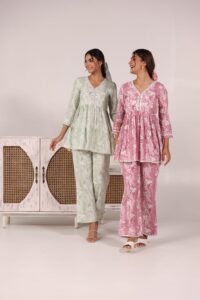 Congenial fashion has long been a go-to styling hack these days to elevate a look. Fashion is not just a meaning of clothing, it is the essence of personality and beliefs, and designers are well aware of the power they hold portraying fashion manipulation. As an expression of their feelings today's youth endeavor to interpret fashion trends and adopt the clothing style that suits their values and traits. It is trickle across theory where the lure of aesthetic experience has given rise to everyday fashion and cognitive engagement. For many, fashion instills confidence and boldness.
Aadews is a western wear brand where style and elegance meet sustainability. Dedicated to creating chic and comfortable western wear to crafting eco-friendly accessories from the leftover fabrics, Aadews focuses on minimal or zero waste attires. It is a fashion-oriented brand established in September 2022, backed by 30 years of garment manufacturing experience and a strong passion for sustainability.
In line with commitment to sustainability, Aadews takes conscious steps to minimize environmental impact. It is dedicated to sourcing eco-friendly materials, implementing responsible production processes, and reducing waste throughout their supply chain. By making sustainable choices, the brand aims to contribute premium quality, handpicked, luxurious fabrics that feel super soft, and sustain longer in the original form even after washing.
Their team of textile designers continuously works on creating new fabrics, utilizing 120 different types made from Cotton, Viscose, Linen, Modal, and Silk blends. The colour, design, and patterns offered are inspired by the latest fashion trends, catering to Indian body types. Aadews prioritize sustainability and adhere to a best-out-of-waste policy, crafting scrunchies, bags, and scarves from garment leftovers,
contributing positively to the environment.
According to Founder, Ayushi Dewan," The name Aadews is derived from the initials of Ayushi and Avyay Dewan, as the brand is a reflection of their values. It embraces inclusivity and diversity, recognising that fashion should be accessible and representative of all individuals. We strive to offer an extensive range of sizes, accommodating different body types and promoting body positivity. Our focus is a combination of affordability and quality at the same time to the customer."
The wide array of collections showcase a wide range of functional outfits, aiming to provide ample options in each category as our prime collection has Western and fusion wear . One of their most beloved by the customer and trendy outfit is the embroidered co-ord set, offering customers multiple color, print, and body options in statement styles.
At Aadews, customer feedback and suggestions are of utmost significance. To focus on this aspect, they dedicate Saturdays to review sessions, where the entire team comes together to evaluate each other's work, backed by online customer review