● Drives affordability for users by enabling them to buy two kilograms of tomatoes for ₹140 per week on the Paytm app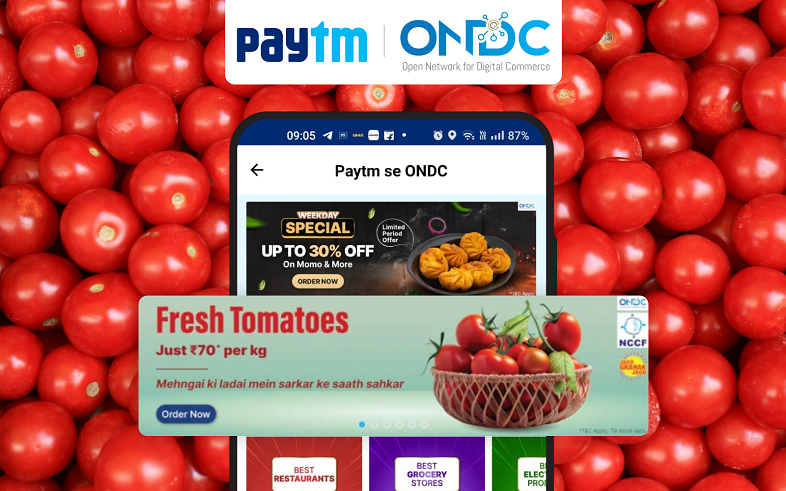 Paytm E-commerce Private Limited (PEPL) today announced the sale of tomatoes ₹70 per kilogram through National Cooperative Consumers Federation (NCCF) for users in Delhi-NCR on Paytm ONDC. Paytm was the first to go live with ONDC and launched Paytm se ONDC on the Paytm app powered by PEPL.
With this, users can only buy two kilograms of tomatoes at ₹140 per week with free delivery through ONDC on the Paytm app. The prices for tomatoes may fall further as per directions from NCCF. This move will benefit the users as retail prices of tomatoes in some cities have crossed ₹200 per kilogram.
Paytm E-Commerce Private Limited Spokesperson said,"The rising prices of a kitchen essential like tomato has been affecting many across the country. With this collaboration between NCCF and ONDC, our users in Delhi NCR can now easily get tomatoes at affordable prices."
How to order tomatoes on Paytm ONDC:
Open the Paytm app and search for 'ONDC'
Tap on 'Tomatoes' and place the order
Backed by the Government of India, Open Network for Digital Commerce (ONDC) has been created to democratise the existing ecommerce ecosystem of the country. Since its launch in Bengaluru, ONDC has expanded its presence to Delhi-NCR, Mumbai, Kolkata, Chennai, Kanchipuram, Hyderabad, Bagalkot and Lucknow. Paytm is a frontrunner in ONDC and is live across categories like Food & Beverage, Grocery, Home & Kitchen, Fashion, Electronics, Health & Wellness, and Beauty & Personal care.