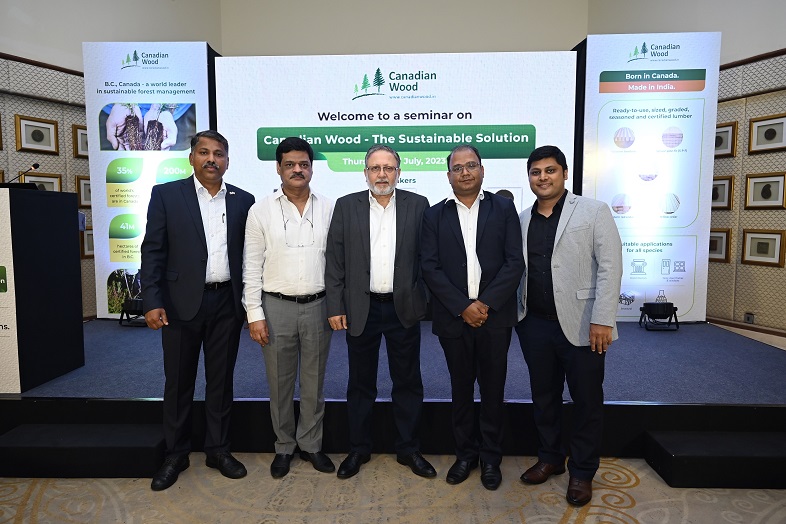 Chennai, 3rd August 2023: The British Columbia (B.C.) provincial government's crown corporation, Forestry Innovation Consulting India Pvt Ltd (FII India), popularly known as Canadian Wood, hosted an insightful seminar titled 'Canadian Wood – The Sustainable Solution' in Chennai. It successfully shed light on the myriad benefits and potential of Canadian Wood as an eco-friendly alternative in the building industry. The seminar witnessed a gathering of industry experts, renowned architects, builders, manufacturers, and dignitaries from the hospitality sector. They had discussions on the sustainable attributes of responsibly sourced wood and its relevance in contemporary construction practices.
The event commenced with a warm welcome note from Jimmy Thomas, Assistant Director Technical Services, who also served as the esteemed moderator for the day. Mr. Pranesh Chhibber, Country Director of Canadian Wood delivered the opening note and highlighted the significance of sustainability in today's world and set the tone for an engaging and informative session.
Distinguished speakers and panellists graced the stage to share their expertise and insights on the subject matter. Mr. Pranesh Chhibber took the floor to deliver an enlightening talk on the subject: 'Canadian Wood – The Sustainable Solution'. He emphasised on how the brand has emerged as an environmentally responsible choice for builders and architects seeking sustainable alternatives in their projects.
The seminar also featured a presentation by Mr Ritesh Kumar, Assistant Director Business Development, who eloquently discussed the 'features and potential' of Canadian Wood and its economic overview. This was followed by an engaging talk by Mr Anil Tiwari from Tec Workshop Interiors, focusing on the versatility and aesthetic appeal of Canadian Wood in interior design and decor. The audience were captivated by the innovations and extensive possibilities offered by brand in various construction applications – right from aesthetic enhancements to structural solutions to create sustainable and visually stunning indoor spaces.
Mr. Pranesh Chhibber, Country Director of Canadian Wood, said, "With cutting-edge technology and stringent international certifications, Canadian Wood stands as a global leader in delivering quality lumber and mass timber products. Our durable and versatile wood, shaped by superior working properties, brings natural beauty and warmth to countless indoor, outdoor, and structural applications worldwide. As we construct buildings and design products, Canadian Wood remains the natural choice, embodying sustainability and preserving our environment for future generations."

Mr Ritesh Kumar, Assistant Director Business Development shared, ""Amidst the urgency to embrace sustainability and protect our planet's ecosystem, Canadian Wood emerges as an inspiration of responsible forestry innovation. As India strives towards net-zero commitments, the demand for wood resources intensifies, making it vital to promote certified, sustainably managed wood imports. Canadian Wood dedicates itself to promoting species from British Columbia in overseas markets, including India. With a network of wood stockists and comprehensive support, Canadian Wood pioneers the path towards a greener, more sustainable future, where design and construction meet responsible consumption."

Mr Anil Tiwari, Tec Workshop Interiors, added, ""With the incredible partnership of Canadian Wood, we embarked on a visionary journey, giving rise to the WoodNiido house – a 1620 sq ft, pre-fabricated wood frame marvel in Kelambakkam, Chennai. Through CW's invaluable knowledge, we showcased this sustainable masterpiece in Mumbai and Delhi. WoodNiido, the esteemed wood housing brand of Tec Workshop Interiors, sets a new standard in interior design with a 20-year legacy of prestigious clients like ITC Welcome Group, JW Marriot, Taj Group, and Novotel. Our collaborations with CW have graced iconic projects from ITC Royal Bengal Kolkata to JW Marriot Mumbai Sahar, Welcome Hotel Coimbatore, and Apollo Proton Chennai.
The seminar's actively engaged in Q&A sessions, fostering constructive discussions and exchange of ideas between the audience and speakers. The seminar concluded with a vote of thanks by Mr Arif Moosa, Marketing Manager.
FII largely promotes five wood species in India that are sourced from the sustainably managed forests of B.C., Canada. These five species, namely Douglas, Western Hemlock, Western Red Cedar, Yellow Cedar and Spruce-Pine-Fir (SPF), are recommended for different applications. They are available in 23 cities across India through a strong network of 40+ stockists.