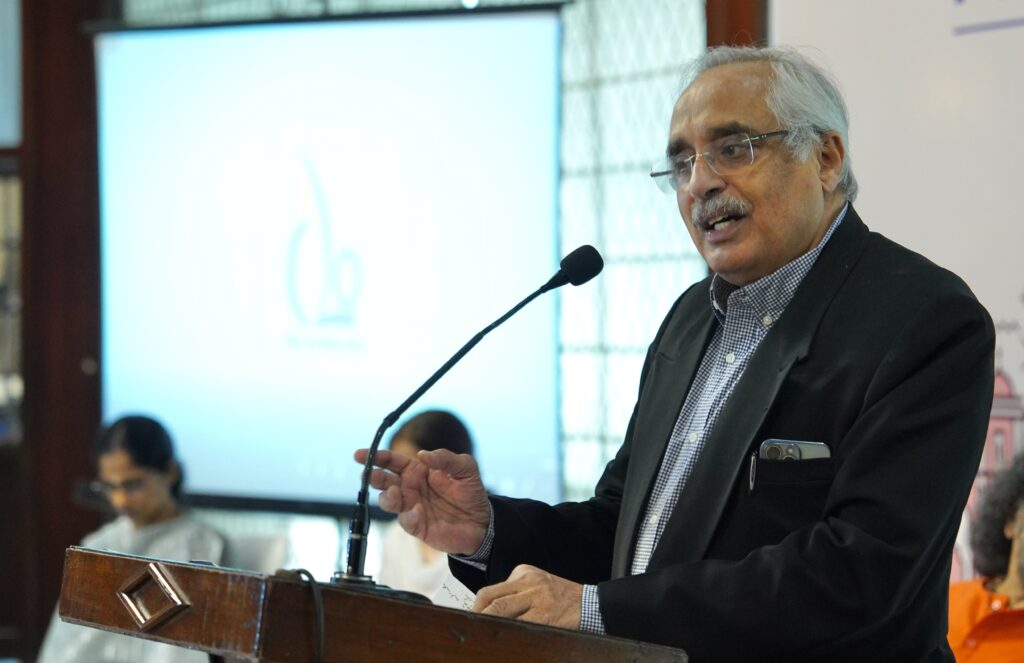 Hyderabad/JAIPUR / July 28, 2023: The Summit of Civil20 (C20), an official Engagement Group of G20, is going to be held in Jaipur over three days from July 29-31, 2023. The event will present the policy recommendations developed by its 16 Working Groups after extensive discussions with civil-society organisations and policymakers worldwide over the past over eight months.
Prominent dignitaries will attend the inauguration of the C20 Summit, including Shri Rajnath Singh, Hon'ble Minister of Defence, Govt. of India; Shri Ashok Gehlot, Hon'ble Chief Minister of Rajasthan; Amma, Sri Mata Amritanandamayi Devi, Chair, C20; and H.E. Mr. Federico Salas Lotfe, Ambassador, Embassy of Mexico; Shri Abhay Thakur, G20 Sous-Sherpa; Core Committee Members Sri M, Sri M Satsang Foundation; RMP (Rambhau Mhalgi Prabodhini) Shri Vinay Sahasrabuddhe, President of the Indian Council for Cultural Relations; and Dr. Nivedita Bhide of the Vivekananda Kendra; and C20 Sherpa Shri Vijaya K. Nambiar.
More than 700 delegates will also be present at the event, including civil-society organisations from around the globe, distinguished experts from renowned institutions, and G20 officials.
The valedictory function on Day 3 of the C20 Summit will be graced by the presence of Shri Kalraj Mishra, Hon'ble Governor, Rajasthan; Smt. Vasundhara Raje, ex-Chief Minister of Rajasthan; Shri Amitabh Kant, Sherpa, G20 India; Swami Amritaswarupananda Puri, Troika, C20 India; and Shri Vijay K. Nambiar, Sherpa, Civil 20.
The main highlights of the Jaipur C20 summit include the release of the C20 Policy Pack and the C20 Communique—C20's communally reached policy recommendations. These important documents will be handed over to the G20 Secretariat.
Said Swami Amritaswarupananda Puri, Troika, C20 India: "The C20 activities under India's 2023 G20 Presidency were truly a learning experience. Since various groups and people of different intellectual capabilities, faiths, cultural outlooks, and nationalities were coming together to share their views, thoughts, and perspectives on resolving the gnawing problems of the world, I initially doubted the results would be very productive. Nevertheless, something I thought would be mired in disharmony and disagreement transformed into an elevating experience of harmonious coexistence, friendship, and understanding. This diversity, in fact, brought uniqueness to perspectives that were unified in their dream of a better world. I believe this only happened because of Amma's equal vision and able leadership. Because diverse, well-intentioned world views may still clash, unless their foundation is compassion. May this circle of acceptance expand and create a ripple effect in our world of diversity."

Said Vijay K. Nambiar, Sherpa, C20: "The C20 under India's chair has demonstrated an unprecedented degree of people's participation. During the past eight months, more than 1,000 meetings have been held across 60 cities in India and abroad, with the participation of more than 184,000 persons covering 74 nationalities. The number of Working Groups (WGs) set up this year have also been larger than ever before and cover not only traditional themes like Women's Empowerment & Gender Equality, but also new themes like Lifestyle for Environment, Seva, and Vasudhaiva Kutumbakam. A Special Committee on Financial Issues was also convened under the umbrella of the C20. The policy pack prepared for the Summit this year is therefore likely to be voluminous."

He added: "The 16 Working Groups have proposed a wide array of policy recommendations on each of their thematic areas. They have also come up with specific examples of successful work that has already been done by civil-society organisations in each area of focus which could be replicated elsewhere in the world. In responding to our policy suggestions, it is our hope that the G20 will adopt approaches that are integrated, scalable, participatory, and supported by sustainable financing."

Said Ramu Damodaran, Member, International Advisory Committee for C20: "You are the light' is the simple and elegant tagline of C20 India, phrased by Mata Amritanandamayi (Amma), attesting that civil-society organisations the world over have proven themselves illuminators of the paths before us, some tested, some dangerous, some untrodden. Historically, their actions have often spoken more eloquently than the words of governments. At times, this has prompted a relationship adversarial, but this would seem a time when a process can begin which celebrates individualism and personal creativity while affirming conformity, not to tired practice, or even to each other, but to the energy of commonly visualised possibilities, and commonly shaped realities."
The Civil20 Summit serves as a platform for experts, advocates, and policymakers to convene, fostering idea exchange and presenting actionable policy recommendations to the G20. It concentrates on critical global issues to shape and influence policies that advance sustainable development, inclusivity, and a better future for all.
The G20 (Group of 20) is a forum comprising 19 countries and the European Union. It works to address major issues related to the global economy. C20 provides a platform for civil-society organisations (CSOs) around the world to voice people's aspirations to the world leaders in G20.
Amma, Sri Mata Amritanandamayi Devi, is the Chair of C20.